Satirical French Magazine Publishes Caricatures Of Mohammed, White House Rebukes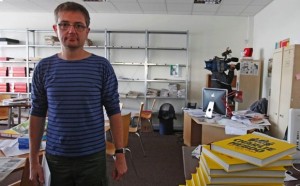 In the midst of the international protests over an offensive anti-Islamic film, the satirical French magazine Charlie Hebdo published caricatures of Mohammed in an issue released today. The decision was swiftly condemned by not just the French government, which increased security at its embassies around the world in response, but from the U.S. government, with White House press secretary Jay Carney addressing the cartoons during a press briefing today.
RELATED: Newsweek's 'Muslim Rage' Cover Invites Controversy, Endless Twitter Mockery
According to the Associated Press, the French government reacted quickly. Foreign Minister Laurent Fabius said that while he believes in freedom of expression, the magazine should not have "pour[ed] oil on the fire." The French government also took steps to beef up security.
Worried France might be targeted, the government ordered its embassies, cultural centers, schools and other official sites to close on Friday — the Muslim holy day — in 20 countries. It also immediately shut down its embassy and the French school in Tunisia, the site of deadly protests at the U.S. Embassy last week.

The French Foreign Ministry issued a travel warning urging French citizens in the Muslim world to exercise "the greatest vigilance," avoiding public gatherings and "sensitive buildings."
The editor of the satirical magazine told the BBC in an interview that the mere act of publishing the cartoons was not a "violence-provoking act" because "we're not the violent ones."
The pictures were controversial enough to warrant a direct rebuke from the White House, with Jay Carney questioning "the judgment of publishing something like that" and with an understanding that there is much "potential to be inflammatory." CNN reported earlier today that so far there has been "no violence reported as a result" of the cartoons.
[Image via]
h/t Businessweek
—–
Follow Josh Feldman on Twitter: @feldmaniac
Have a tip we should know? tips@mediaite.com
Josh Feldman - Senior Editor