SC Democratic Challenger Sorry if You Think He Meant to Call Nikki Haley a 'Whore'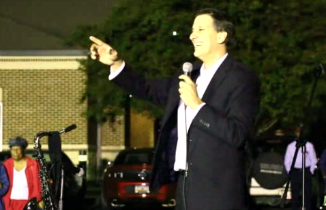 South Carolina's Democratic candidate for governor Vincent Sheheen has apologized if anyone thinks he purposely meant to call incumbent Republican Gov. Nikki Haley a "whore" during a stump speech.
As we reported last week, during a Thursday rally in Florence, S.C., Sheheen implored voters to help him "escort whore out the door." He quickly re-enunciated the line as "We are going to escort her out the door," and then laughed with the crowd in what seemed to be acknowledgement of the verbal flub.
The South Carolina Democratic Party pre-empted any controversy surrounding the clip by releasing a statement pinning the gaffe on the candidate's thick accent, along with a suggestion that the people who sent around the clip were generating a "fabricated controversy to distract from the fact that a sitting governor is stuck in the low 40s just days before the election."
Appearing on WQSC's The Bryan Crabtree Show, Sheheen attempted to correct the record and, once and for all, declare that he did not intentionally call Haley a "whore."
"Listen, sometimes when you're speaking 5 to 10 times a day, your words get a little bit garbled," he told Crabtree. "When they get garbled — and it does happen to me — I go back and say exactly what I meant, and you heard that I meant 'her' in that clip."
Crabtree conceded that the Democrat corrected himself rather quickly, prompting more explanation from Sheheen:
I don't use that word you people are claiming that I used. I don't use it in private, and I don't use it in public — but if anybody heard wrong, and certainly my words were garbled, then you know I apologize. Because I don't want to send that message to anybody.
Listen below, via WQSC:
And watch the original moment below:
— —
>> Follow Andrew Kirell (@AndrewKirell) on Twitter
Have a tip we should know? tips@mediaite.com