Secret Service Says They Are Investigating Ted Nugent's Remarks Towards Obama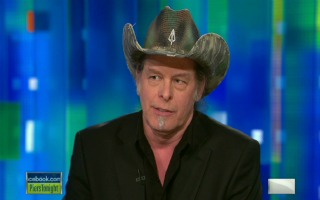 According to a report on Think Progress, rocker Ted Nugent is in the Secret Service's crosshairs after making comments about President Barack Obama and members of the Democratic party up for election in 2012.

Via Think Progress:
Ted Nugent's remarks about President Obama at the annual National Rifle Association convention in St. Louis have earned him a follow-up conversation with the Secret Service. On Sunday, the singer remarked that "if Barack Obama becomes the president in November again, I will be either be dead or in jail by this time next year." The Secret Service, which investigates all threats against the President, confirmed to New York Magazine's Daily Intel blog that they have in fact flagged Nugent's comment. "We are aware of it, and we'll conduct an appropriate follow up," the agent told the magazine. Nugent endorsed Mitt Romney — albeit reluctantly — via Twitter last month, and at least one Romney, middle son Tagg, was excited about the news.
Mediaite's Tommy Christopher recently asked why President Obama and many prominent members of his reelection team had to defend or disavow comments made by a Democratic strategist, Hilary Rosen, who has only loose ties to the Obama White House but former Massachusetts Gov. Mitt Romney, who actively sought Nugent's endorsement, has not yet been asked to respond to the rock star's remarks.
RELATED: Ted Nugent: Obama 'Vile' And 'Evil,' Voters Should 'Chop [Democrat's] Heads Off In November.'
With the Secret Service's entry into the scandal, it is unlikely that Romney will escape the gravity of this snowballing controversy without having to comment on it. Romney will be asked to repudiate the endorsement, but given the former Massachusetts governor only recently secured the Republican presidential nomination and still faces residual resentment from within his party's base, it will be politically challenging for Romney to throw Nugent under the bus.
Watch the offending remarks below via Right Wing Watch:
Have a tip we should know? tips@mediaite.com