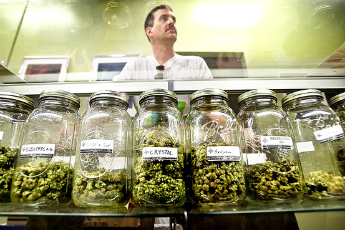 Good news for those suffering from ailments like glaucoma, the side-effects of chemotherapy, and back pains: The Inquisitr reports that seven more states are considering the legalization of medical marijuana.
Currently 16 states and Washington, D.C. allow for the use of regulated medical marijuana (while the federal government maintains a hard-line stance against any and all marijuana transactions/possession). That may seem like a small number, but remember that a majority of Americans now support the legalization of marijuana, and roughly 75% of Americans support the legalization of medical marijuana.
Here's a state-by-state breakdown:
Illinois – House Bill 0030, a.k.a. the Compassionate Use of Medical Cannabis Pilot Program Act, would legalize a medical marijuana trial-run of three years. Patients would have to register with the state and there would be possession limits of up to 6 marijuana plants and 2 ounces of the drug. After three years, the state would have to renew the program.
Ohio – The Ohio Medical Cannabis Act of 2012 is a citizen-led initiative on the ballot this November. The measure calls for the creation of an Ohio Commission of Cannabis Control to serve as a regulatory board, much like state-run liquor commissions.
New York – Senate Bill 7283 would legalize "the manufacture, possession, use, delivery, administration and transportation of marihuana" by a certified patient or sanctioned caregiver.
– RELATED: Why Won't President Obama Support Our Right To 'Choom' A Doobie Like He Did?
Pennsylvania – Senate Bill 1003 would legalize the medical use of cannabis.
Missouri – House Bill 1421 would allow certified patients to grow up to three marijuana plants in their home, and will allow for the establishment of medical marijuana dispensaries within the state.
New Hampshire – Senate Bill 409 — written by a Republican(!) — would allow certified patients to possess up to six ounces of cannabis or six plants if the patient cannot visit dispensaries. Republican Governor Jim Lynch indicates he will veto the bill, which poses a problem for this law.
Massachusetts – House Bill 625 and Senate Bill 818 both concern medical marijuana. The House bill would essentially decriminalize the use, growing, and possession of medical marijuana. The Senate bill, however, would give state police officers the right to "exercise judgment" over medical marijuana arrests.
None of these states are particularly surprising as the next candidates to legalize medical marijuana. And even if all seven states legalize medical marijuana, I highly doubt the president will "evolve" (or is it devolve, since he was once openly in favor of medical marijuana?) on the issue.
None of these laws are guaranteed to pass, but the pessimist in me believes one thing is probably for certain: President Barack Obama's Justice Department, DEA, and IRS will continue to harass and shut down legal dispensaries where possible, despite repeated promises to respect state laws.
>> Follow Andrew Kirell (@AndrewKirell) on Twitter
Have a tip we should know? tips@mediaite.com