Shocker: the Trump Administration is the Most Male-Dominated in Recent History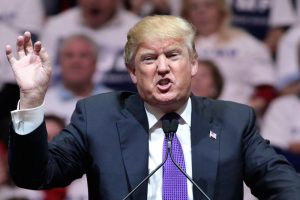 On Thursday, The Guardian shared a new analysis that found Donald Trump's presidential administration is on track to be the most male-dominated federal government in recent history. According to the Guardian, 80 percent of all nominations for jobs within the administration have gone to men.
This analysis comes from looking at 408 political nominees Trump has sent to the Senate for approval. Of the 408 nominees, 327 were men and just 80 were women. Additionally, only one of Trump's 42 nominees for U.S. attorney has been a woman thus far, and The Guardian notes that none of the four women who are in Trump's cabinet are in his inner cabinet, or the circle of Trump appointees that are closest to him, or "at the front of the line in presidential succession."
Previous research has found that Trump's cabinet has a smaller proportion of women and nonwhites than any president's first cabinet since Ronald Reagan.
The issue of political representation and installing more women in government existed long before Trump, dating back to the very advent of America, and the Clinton, Bush and Obama administrations were hardly golden environments for women. According to The Guardian:
By contrast, men in government outnumbered women three-to-one during the first term of George W Bush, and there were two women for every five men in government during the Clinton and Obama administrations, according to a 2013 New York Times analysis of all appointees, Senate approved or not.
The issue is that, where it looked like we were making progress under the Obama administration, under Trump, this progress has stalled. Diversity in the distribution of political power isn't a matter of checking off boxes and achieving surface-level ratios, but of "building pipelines that would keep diverse groups represented in the White House," which a former Obama-era adviser claims the Obama administration aimed to do.
The appointment of Secretary of Health and Human Services Tom Price, a man who has serially demonstrated his ignorance about the disproportionate costs of reproductive health care for women, is just one example of how women can suffer when they are represented by people who lack a personal understanding of their needs.
Debate has long raged over whether the personal truly is the political, but the fact that thousands of women could lose access to the resources that allow them to make safe, healthy decisions in their personal lives at the drop of a hat from the male-dominated Trump administration and Congress speaks for itself. If successful, new freedom of religion policy allowing single women to be fired for being sexually active or using birth control also drives home the potential for women to face unique, gender-based economic disenfranchisement from male-dominated political spheres.
Victoria Budson of Harvard's Women and Public Policy program told the Guardian that U.S. history is paved with the consequences of male policymakers handling gender as "an afterthought." Just one example of this, according to The Guardian, is social security benefits. As a result of being paid less, living longer, and spending more time out of the workforce taking care of their children, women are substantially more likely to receive inadequate pensions and wind up living in poverty.
Demand for representation of women — women who know the diverse struggles of women and wish to impart positive change in their lives — isn't about conforming to a purportedly useless, inefficient culture of "political correctness" that President Trump has repeatedly claimed he doesn't have time for. It's about reforming America to reflect and serve all of its demographics, and growing and changing with the times.
[image via Gage Skidmore / Flickr]
This is an opinion piece. The views expressed in this article are those of just the author.