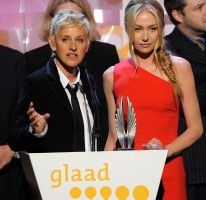 Is the Gay and Lesbian Alliance Against Defamation too beholden to the networks it is supposed to be watchdogging? That's the allegation made by gay activist and radio host Michelangelo Signorile who has accused GLAAD of having "a drug habit it just can't shake" when it comes to criticizing the corporations that give it money.
Using the example of GLAAD's flip-flopping on ABC's treatment of Adam Lambert, Signorile said in the Advocate that ABC's financial contributions to GLAAD clouded the group's response. But GLAAD chief Jarrett Barrios has fired back, also in the Advocate, saying Signorile has his facts wrong and that the organization has not trouble criticizing the networks, who only provide about one percent of the organization's budget.
Criticizing GLAAD has long been a popular past time among many LGBT activists and bloggers, who have questioned the organization's cozy relationship with Hollywood and the networks and accuse the group of having mission creep. That criticism came to a crescendo in December when GLAAD was forced to issue a series of press releases explaining its ever-changing position on whether ABC showed homophobia in its ban on Adam Lambert.
For Signorile and other activists, GLAAD's chief problem is that it is more interested in not upsetting donors than raising concerns about how LGBT people are portrayed in the media.
"At the heart of the controversy is a simple fact: GLAAD solicits money from networks and entertainment companies and then hands them awards for what the organization deems positive media representation of the LGBT community," Signorile said. "Media companies receiving the awards—many of which often engage in or perpetuate the very bias and defamation that GLAAD crusades against—sponsor the celebrity-strewn benefits and underwrite the performances in return for branding opportunities and choice tables."
Barrios rejected the argument that GLAAD was afraid to criticize its donors, detailing a series of efforts the organization has waged against the networks who provide a tiny amount of donations. "Does it really stand to reason that so few who contribute so little proportionally have so much influence? No, it doesn't," Barrios argued in his rebuttal.
In the end, it's likely both sides have a point.
GLAAD has long had a controversial relationship with the community it is supposed to advocate for and, as the media climate has improved for LGBTs, the organization does seem more interested in handing out awards than being a vocal, consistent watchdog. The handling of ABC's response to the Lambert controversy had a bit of a train-wreck feel to it. And the perception that the organization's relationship with the networks and studios  harms its ability to be an advocate is one that GLAAD hasn't successfully dealt with.
In GLAAD's defense, it is true that an advocacy group can criticize the people who it also takes money from. Networks like ABC/Disney aren't donating money to GLAAD in order to avoid criticism, but instead for the public relations benefit that comes from associating with organizations that encourage positive portrayals of LGBT people. Finally, if it is true that networks only contribute one percent of the budget–financial transparency has never been one of GLAAD's strong points–then it's hard to believe they can be bought by such a small amount of money.
There's always a tension between how activists believe giant advocacy groups like GLAAD should operate and how those groups actually are run.  GLAAD's insider status almost certainly helps it resolve problems and get a response from the corporate media and studios it works with.  But that response and insider approach isn't going to be satisfying for activists looking for a full-throated attack on behalf of their agenda.
Have a tip we should know? tips@mediaite.com