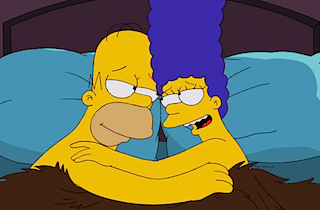 When Simpsons executive producer Al Jean told Variety on Tuesday that Marge and Homer Simpson would legally separate in the 27th season premiere, the fans were plunged into mass hysteria. In a new interview with the New York Post, however, Jean advised everyone to calm the heck down, saying "we never carry anything longer than an episode or two."
Jean previously said that the premiere would focus on the strain Homer's narcolepsy causes on his marriage to Marge. This was to culminate with their legal separation and Homer falling in love with his pharmacist, voiced by Lena Dunham. By Episode 3, Jean told the Post, everything will go back to normal.
"For some reason, people thought this was going to last forever," Jean continued. "I never said the word 'divorced.' That implies finality. I was surprised that people would interpret it as a final move."
This is hardly the first time a show like The Simpsons wrote in a major, albeit temporary development for its main characters. Family Guy caused a lot of commotion in 2013 when the show told its audience that it was killing off the family dog and Seth-Macfarlane-avatar, Brian Griffin, only to bring him back a few episodes later.
Even in the show itself, television's longest-lasting couple has faced separation before. Homer actually filed for divorce only to remarry Marge during an episode of Season Eight, and in Season Twenty, they needed a do-over after finding out their minister was not certified at the time.
Jean concluded that he found the public outcry to be "a real testament" of the show's popularity, but he would largely suggest viewers to take the advice of a recent tweet:
RT and stop the rumors! #TheSimpsons pic.twitter.com/RsixP5R4JJ

— The Simpsons (@TheSimpsons) June 10, 2015
[h/t ABC News]
[Image via Screengrab]
— —
>> Follow Ken Meyer (@KenMeyer91) on Twitter
Have a tip we should know? tips@mediaite.com