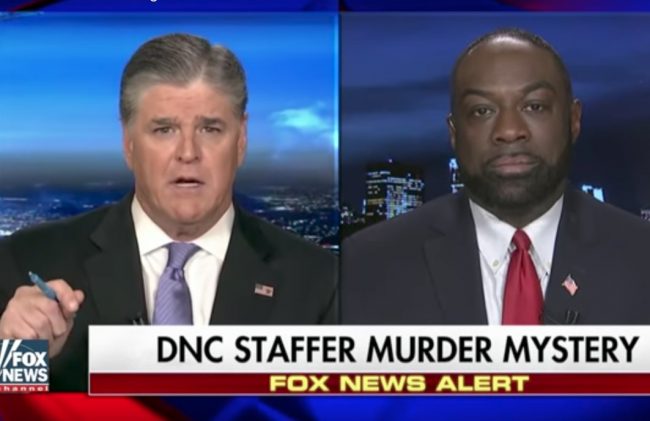 The family of a murdered DNC staffer is very unhappy with Fox News.
Here's what you need to know: Last July, a young man named Seth Rich was found killed in D.C. Conspiracy theories sprung up that somehow implicated Hillary Clinton in the murder. Yesterday morning, Fox News' Fox & Friends ran with a new report that Rich had been in contact with WikiLeaks before his death, which the young man's family quickly and forcefully denounced. Then, news broke that a right-wing millionaire had been funding an investigation into Rich's death.
All of that chatter continued yesterday in spite of Rich's family being demonstrably against the politicization of the staffer's death and numerous sources with information on the murder investigation coming forward to contradict the Fox reports. In fact, last night, Sean Hannity featured the story on his program as the rest of his time slot competition was busy focusing on new reports that Donald Trump may have asked James Comey to drop an FBI investigation.
Now, Rich's family is done with plain old statements. According to CNNMoney, they want retractions not only from Fox News, but from WTTG-TV, where the reporting this week originated. Family spokesman Brad Bauman said the following:
"The family is officially asking for a retraction and an apology from Fox News and from the Fox 5 DC affiliate for inaccurate reporting and damaging the legacy of their son… They need to retract the story or issue an apology or the family will consider other options, including legal, to clear their son's name and get Fox to do what's right."
We have reached out for comment from Fox News and D.C.'s Fox 5. We will update if and when we hear back.
UPDATE –– 7:30 pm ET: Mediaite has received a statement from Refet Kaplan, managing director of Fox News Digital, that says, "We continue to track developments in the story and will update further when the situation warrants."
[image via screengrab]
Have a tip we should know? tips@mediaite.com