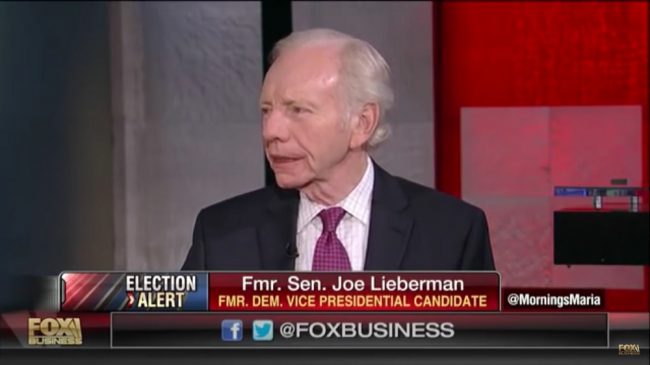 President Donald Trump will interview four individuals who could be James Comey's successor as FBI director, including 2000 Democratic vice presidential nominee Joe Lieberman.
The Hill reported on this development in a Wednesday article. Lieberman, who retired from the U.S. Senate in January 2013 and endorsed Hillary Clinton during the 2016 presidential race, will meet with President Trump on Wednesday afternoon, along with "acting FBI Director Andrew McCabe, former Oklahoma Gov. Frank Keating (R) and former FBI official Richard McFeely."
The publication's report pointed out that the former Connecticut senator "has no experience as an FBI agent or as a federal judge or prosecutor. The Democrat-turned-Independent was Connecticut attorney general before being elected to the Senate in 1988." The three other men meeting with the President all have FBI experience.
Senator Lieberman revealed to MSNBC on Wednesday that "it was unexpected. Not something I was seeking." The former politician also "declined to say" whether he would accept the position if Mr. Trump offered it.
It should be pointed out that on May 15, the former senator endorsed a special prosecutor/counsel to look into the James Comey "situation" (4:00 into the video below).
.@JoeLieberman to Neil: 'Bad guys' dominate when they don't fear the US @FOXNEWS #FOXNEWS #CAVUTO https://t.co/OggmKMuHFW

— Neil Cavuto (@TeamCavuto) May 15, 2017
The response to the possible nomination of Lieberman drew mixed responses on Wednesday afternoon. Senator John Cornyn, who took his name out of consideration for FBI director, sang the praises of his former colleague in an interview with Politico: "I think he would get 100 votes," Cornyn said. "Everybody loves Joe Lieberman."
However, Democratic strategist Zac Petkanas blasted Lieberman in a post on Twitter.
Joe Lieberman's law firm represented Donald Trump since 2001.

And he introduced Betsy DeVos during her confirmation hearing.

No thanks.

— Zac Petkanas (@Zac_Petkanas) May 17, 2017
[image via screengrab]
Have a tip we should know? tips@mediaite.com