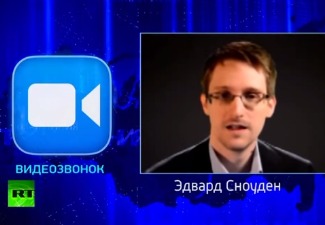 Sources reportedly close to Edward Snowden told The Daily Beast that the NSA whistleblower "instantly regretted" asking Vladimir Putin a question during the Russian president's online Q&A. Snowden wrote a column for The Guardian to defend himself, after criticism from some that showed Snowden to be helping along Russian propaganda.


Jesselyn Radack, an American lawyer representing Snowden, acknowledged the Q&A "can play into the incorrect meme that he is somehow being controlled by Russia." And she's not the only one.
NSA leaker Edward Snowden instantly regretted asking Russian President Vladimir Putin a softball question on live television about the Kremlin's mass surveillance effort, two sources close to the leaker tell The Daily Beast.

"It certainly didn't go as he would've hoped," one of these sources said. "I don't think there's any shame in saying that he made an error in judgment."

"He basically viewed the question as his first foray into criticizing Russia. He was genuinely surprised that in reasonable corridors it was seen as the opposite," added Ben Wizner, the American Civil Liberties Union attorney who serves as one of Snowden's closest advisers.
Glenn Greenwald, one of the journalists who's been reporting on the information Snowden leaked, mocked critics of Snowden's over the Q&A.
Snowden should storm the Kremlin, take their surveillance docs & demand to be sent to the US: just like his brave patriotic critics would do

— Glenn Greenwald (@ggreenwald) April 17, 2014
Writing an op-ed criticizing Putin's response while needing asylum is as brave an act as the initial whistleblowing, & shows same integrity

— Glenn Greenwald (@ggreenwald) April 18, 2014
You can watch the Q&A below, via RT:

[photo via screengrab]
— —
Follow Josh Feldman on Twitter: @feldmaniac
Have a tip we should know? tips@mediaite.com
Josh Feldman - Senior Editor