So It Begins: Reagan Library To Host First GOP Presidential Debate In Spring 2011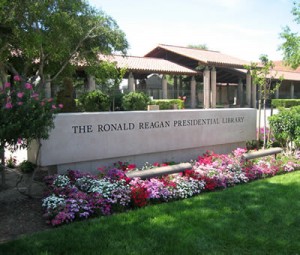 The midterm elections are over, so you know what that means: It's time to talk 2012! Well, not really; there are still almost two years between that election and now, right?
Even so, 2012 fever is already starting to ratchet up. Case in point: NBC News sent out a press release today about the first GOP debate of the 2012 election season. It's happening pretty soon too.
Former First Lady Nancy Reagan today announced plans to invite all of the leading contenders for the 2012 Republican presidential nomination to two debates at the Ronald Reagan Presidential Library and Museum. The Reagan Presidential Foundation plans to play host to both the first GOP presidential debate of the 2012 election cycle in spring 2011 and a second GOP debate on the eve of the Super Tuesday primaries.

The Reagan Foundation has confirmed NBC News as the television partner and POLITICO as the online partner of the first debate. The media partners for the second, pre-Super Tuesday debate will be announced in 2011.

"Ronnie would be thrilled that the road to the White House will begin at his Presidential Library," Mrs. Reagan said. The Library hosted two debates in the 2008 election cycle, including the first of the election cycle. "I look forward to welcoming and watching the top candidates debate the issues next spring."
As NBC News president Steve Capus added, "The fact that we are already talking about the 2012 presidential race only foreshadows how invested and deeply-rooted America will be in the political discussion come next spring." Sure—that, or the fact that the media doesn't seem to know what to talk about if there isn't an election on the horizon, no matter how far away it may be.
Have a tip we should know? tips@mediaite.com