Sorry, Ellen DeGeneres: This Chicken Nuggets Tweet Could Become the Most Retweeted Ever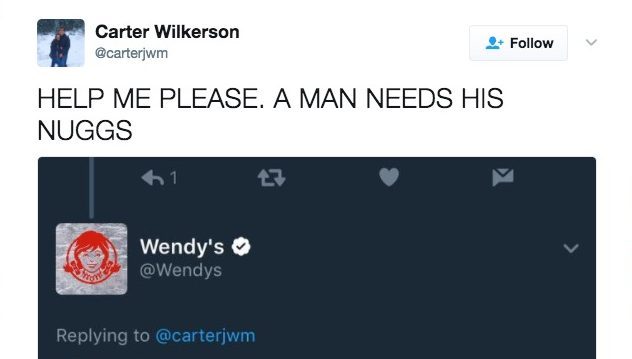 Carter Wilkerson needs his nuggets, and more than two million people agree. He recently tweeted at Wendy's asking him how may retweets it would take for him to get free chicken nuggets for a year. Wendy's, who arguably has the sassiest account on Twitter replied that it would take 18 million. Wilkerson responded with a confident "Consider it done." He then tweeted asking the Internet for help, and so far, the Internet has come through. Big time.
HELP ME PLEASE. A MAN NEEDS HIS NUGGS pic.twitter.com/4SrfHmEMo3

— Carter Wilkerson (@carterjwm) April 6, 2017
Since April 5th, Wilkerson has racked up 2.5 million retweets, and the tweet is on track to being the most retweeted of all time. Currently, that title belongs to Ellen DeGeneres, for her now incredibly famous Oscars selfie. Currently, Ellen's has 3.2 million:
If only Bradley's arm was longer. Best photo ever. #oscars pic.twitter.com/C9U5NOtGap

— Ellen DeGeneres (@TheEllenShow) March 3, 2014
Despite the fact that Wilkerson is still 15.5 million retweets from where he needs to be, this is an enormous Internet milestone. First, Ellen is a massive celebrity. Second, she garnered a ton of publicity by tweeting out her selfie during the biggest awards show of the year. Wilkerson is incredibly impressive. We're rooting for him and his nuggets.
[image via @CarterJWM/Twitter]
Have a tip we should know? [email protected]