South Carolina Tea Party Leader Says She Doesn't Know Anyone 'That Does Not Despise Mitt Romney'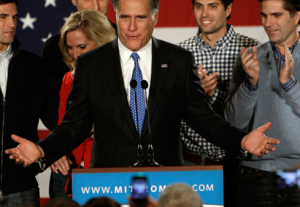 It's no secret that Mitt Romney isn't exactly a darling of the Tea Party, but Karen Martin, the head of the Spartanburg County, S.C., chapter, did not mince words when speaking to NPR's Frank James about just how little they care for him.
"There's no Tea Partier that I talk to in the state or nationally that would want to promote Romney," Martin said. "Other than the people that have come out publicly and endorsed Mitt Romney and the people left over from his 2008 campaign, I do not personally know anyone that does not despise Mitt Romney and doesn't hate the idea of him being our nominee."
RELATED: Mitt Romney Pushes Back At Tea Party Nation Slam: 'I Don't Think There Are Tea Party Chiefs'
A combination of Romneycare, flip-flops on issues, and a perceived slight of the Tea Party by Romney have combined to make him incredibly unpopular within the movement. Martin said that her group felt "betrayed" by South Carolina Governor Nikki Haley, a Tea Party favorite, when she endorsed Romney last year. The South Carolina primary is set for Jan. 21 — 11 days after New Hampshire — so Romney does have some time to try and get in their good graces.
And it isn't all bad news for the Iowa victor, according to James. He notes that the group is more concerned with knocking President Obama out of power, so they will likely "grudgingly" vote for him if he wins the nomination. And James also finds one person, Allen Olsen — former head of the Columbia County Tea Party, and now a Newt Gingrich volunteer — who has heard of a Romney supporter in the state's Tea Party system.
"I think," Olsen says, "there's one Tea Party member in Columbia who likes him."
Have a tip we should know? tips@mediaite.com