Standing by her Cheating Man, Hillary's the Last Person to Attack Trump on Women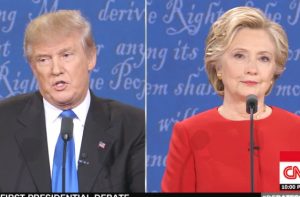 The presidential race has now devolved into a war of words over a beauty queen, and the mainstream media's unbridled attack on Donald Trump as the Beast.
Because Hillary Clinton is having a hard time running away with this election (because voters don't trust her), she dredged up Donald Trump's 20 year-old comments about an overweight Miss Universe — this, in order to resurrect the Democrat-manufactured meme that the GOP hates women.
During Monday night's debate — in an effort to portray Trump as a misogynistic, "unhinged," candidate — Hillary brought up his treatment of the 1996 Miss Universe, Alicia Machado.
"And one of the worst things he said was about a woman in a beauty contest. He loves beauty contests, supporting them and hanging around them. And he called this woman 'Miss Piggy.' Then he called her 'Miss Housekeeping,' because she was Latina. Donald, she has a name," Hillary scolded.
Democratic feminists believe beauty pageants objectify women. They certainly aren't called 'brain contests.' So, the irony of Hillary exploiting a former beauty Queen while she campaigns on equal-pay-for-equal-work is laughable.
Looking surprised, Trump denied making the remarks.
But the liberal media couldn't wait to give the story legs, and doused it with lighter fluid all week. Rather than talking about the real issues of the campaign — like Hillary's stonewalling Americans with her use of a private email while Secretary of State, and the donations from business and foreign governments the Clinton Foundation continued to accept while she was Secretary — the media has obsessed over a beauty Queen.
Earlier this week, Newt Gingrich defended Trump.
"You are not supposed to gain 60 pounds the year you're Miss Universe," Gingrich said in a speech before the Log Cabin Republicans in DC.
And as a woman, I couldn't agree more. When was the last time anyone saw a fat contestant crowned Miss America, Miss Universe or Miss anything? Men don't rush to buy the Sports Illustrated Swimsuit Issue to ogle over women in bikinis who should be going to the nearest Weight Watchers. The Miss Universe contest, like other beauty pageants, includes a swim-suit competition. Beauty is certainly in the eye of the beholder, and voluptuous women are beautiful. But beauty contests don't reward heavy girls. (The liberal-dominated Hollywood film industry doesn't either, by the way. It fat-and-age-shames actresses.)
Exhibiting his usual tempestuous nature, Trump weighed in on Machado. "She gained a massive amount of weight, and it was a real problem," Trump said in a post-debate appearance on 'Fox & Friends.'
And he wasn't lying. Whether Machado gained 15 pounds or 60 pounds, this video of her much publicized diet at the time showed someone who did in fact look like Miss Piggy not Miss Universe.
As for Trump, he should have ended the conversation Tuesday. Instead he launched into a Twitter tirade against Machado and Hillary on Friday at 3 o'clock in the morning.
In a series of tweets, Trump suggested that Machado wasn't "a paragon of virtue," may have recorded "a sex tape" and that Hillary helped her become a U. S citizen. Trump needs to exercise some presidential restraint, and resist pigging out on the bait Hillary throws out to him.
A recent NBC/SurveyMonkey poll found that after the debate, 80% of independent women voters don't believe Trump has "the temperament and personality" to be president.
Trump needs to start trotting out his daughter Ivanka and the women he's employed in senior level positions across his companies, to demonstrate to voters that unlike Hillary, he's created jobs for women and paid them equally.
As a woman, I am repulsed by Hillary Clinton pretending to be a champion for women. She's no Hippolyta, Queen of the Amazon. Hillary has remained married to Bill Clinton, a serial philanderer for 41 years for one reason: power! Her husband has publicly humiliated her with his affairs not once, but numerous times.
Without her marriage to Bill Clinton, I doubt Hillary would have been able to hold nearly every political office under the sun, from first lady of Arkansas to First Lady of the United States, U.S Senator and Secretary of State. Trump needs to remind women that the woman striving to break America's last glass ceiling is telling women that the only way we can rise to power is by standing by a cheating man.
Since the liberal media is into dredging up comments made by Trump 20 years ago, let's talk about what Hillary and Bill were saying and doing back then. In 1996, President Bill Clinton stood before the American people in a televised speech with Hillary by his side and denied having an affair with then 22-year old White House intern Monica Lewinsky. Hillary Clinton is the war on women.
— —
Crystal Wright is author of the newly released book Con Job: How Democrats Gave Us Crime, Sanctuary Cities, Abortion Profiteering, and Racial Division. By day, Crystal is a communications consultant and editor and publisher of the blog Conservative Black Chick.
Follow Crystal Wright @GOPBlackChick on Twitter
— —
This is an opinion piece. The views expressed in this article are those of just the author.
This is an opinion piece. The views expressed in this article are those of just the author.