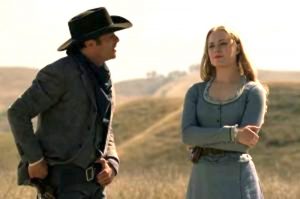 Tonight, HBO's new show Westworld premieres. It is an adaptation of the 1973 Michael Chriton science fiction film by the same name. Westworld is a theme park full of extremely lifelike robots (hosts), and guests can come and act out their cowboy fantasies, no matter how terrible they are, without consequences. The show is executive produced by J.J. Abrams, and features a pretty all-star cast including Anthony Hopkins, Ed Harris, Evan Rachel Wood, James Marsden, and Thandie Newton.
It's violent, it's gory, and it's definitely exciting, but it goes deeper than that. The show tells the story of what happens when artificial intelligence becomes too real.
Hosts are subjected to horrible atrocities. They're raped and murdered, and then their memories are purged and they return to Westworld, good as new, and ready to do it all over again- because it's all fake, right? When the robots are updated, however, to be more lifelike, they actually start to remember some of the terrible things that have happened to them. The show explores what happens when the line between fantasy and reality is blurred.
The show forces its audience to examine the question, "what is human?" If it looks like a human and acts like a human, is it one? And, it forces its audience to look at the way people treat other people- or, at least, robots that look like other people. In one particularly gory moment, a guest shoots a host through the neck, and while the host writhes on the ground, dying, the guests are laughing, proud of what they've done.
Evan Rachel Wood is stellar as Dolores, a host, and Anthony Hopkins is terrifying as the park's owner. The idea is intriguing, especially in a world where AI is becoming increasingly common. Though the first episode starts a bit slow, we were drawn in.
It's definitely interesting, and it was hugely expensive- the budget was $100 million for 10 episodes. HBO has a lot riding it, since Game of Thrones is going to end after just two more shortened seasons. The concept and cast will no doubt bring viewers, at least at the beginning. We'll see if this is the hit the network is betting on.
Westworld premieres tonight at 9:00pm on HBO.
[images via screen grab/HBO]
Follow Dana Eisenberg on Twitter.
This is an opinion piece. The views expressed in this article are those of just the author.