Steelers Coach Mike Tomlin Had an Incredible Response For Terry Bradshaw's 'Unprofessional' Criticism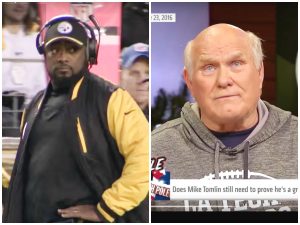 Okay, this one requires a bit of context — but the context will make you appreciate this trolling all the more.
Last week on Fox Sports 1's Speak For Yourself legendary former Pittsburgh Steelers quarterback and current Fox Sprts analyst Terry Bradshaw fired some pretty sharp criticism at current Steelers coach Mike Tomlin.
"I don't think he's a great coach at all. He's a nice coach and to me, he's really a great cheerleader guy," Bradshaw said. "I don't know what he does. But I don't think he's a great coach at all. His name never even pops into my mind when we think about coaches in the NFL."
On Tuesday, Tomlin was asked about Bradshaw's comments at a news conference — and here's where the context comes in. Tomlin, in his response to Bradshaw, invoked the name of  Thomas "Hollywood" Henderson, a linebacker who played for the Dallas Cowboys in the late 1970s. Prior to Super Bowl XIII in 1979, Henderson famously said that Bradshaw "is so dumb, he couldn't spell 'cat' if you spotted him a C and an A."
So now, given that context, here is Tomlin's response to Bradshaw, via multiple sources:
"(T)erms like 'cheerleader guy,' to me, maybe fall outside the bounds of critique or criticism. They fall probably more into the area of disrespect and unprofessional. But what do I know? I grew up a Dallas fan, particularly a Hollywood Henderson fan."
Give me a C! Give me an A!
[images via screengrabs]
–
Follow Joe DePaolo (@joe_depaolo) on Twitter
Have a tip we should know? tips@mediaite.com
Joe DePaolo - Senior Editor