Stelter Snipes at Hannity In Advance of Trump Jr. Interview: 'Real Journalists at Fox News Must be Disappointed'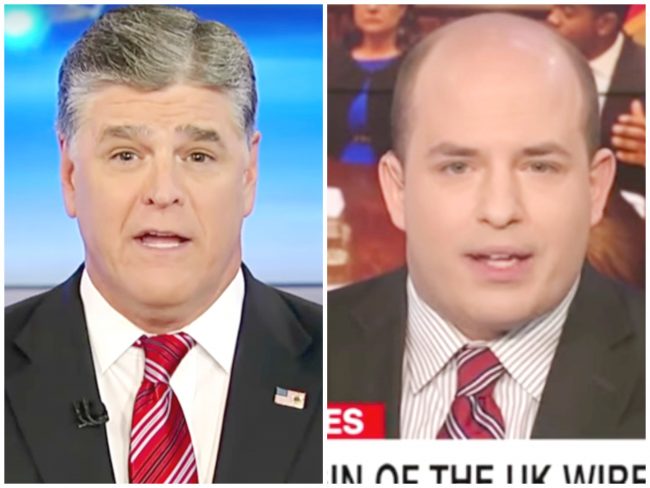 It is, undeniably, a big "get" for Sean Hannity to have Donald Trump Jr. appear on Hannity Tuesday night after having spent the past 72 hours at the center of a media firestorm over his meeting with a Russian lawyer who claimed to have dirt on Hillary Clinton.
CNN's Brian Stelter, though, doesn't seem to believe the interview will be very confrontational. The CNN media reporter took a shot at Hannity on Twitter by saying that "real journalists at Fox News" were bound to be disappointed that Hannity was able to secure the high-profile interview.
The real journalists at Fox News must be disappointed that Don Jr. is talking to Hannity, not them. https://t.co/RPvkjpaemG

— Brian Stelter (@brianstelter) July 11, 2017
Hannity fired back with a shot at CNN's ratings.
Lol. At least Fox has real journalists. Great month for @CNN Fake News! Hannity #1 in Demo on Fox for second Qtr. Can @cnn beat Nick/night? https://t.co/7IwUYQLkSA

— Sean Hannity (@seanhannity) July 11, 2017
This, of course, is not the first social media skirmish these two have had. Last year, in a heated exchange shortly after the election, Stelter dismissed Hannity as "not a journalist," while Hannity said Stelter "doesn't have a clue."
Worth noting that Fox News Channel doesn't claim that Hannity is a journalist and he also doesn't characterize himself that way, though that doesn't make Stelter's point any less worthy.
Hannity will be speaking with Trump Jr. about, "the latest New York Times report and meeting with Natalia Veselnitskaya, along with his thoughts on the media," according to a press release from Fox News.
[featured images via screengrabs]
——
Follow Joe DePaolo (@joe_depaolo) on Twitter
Have a tip we should know? tips@mediaite.com
Joe DePaolo - Senior Editor