Strong Words: Paul Ryan's Press Secretary Is Getting Roasted on Twitter for AHCA Statements
On Twitter, you might see users referencing "the ratio" with a mixture of awe and fear. Maybe you don't really know what they're talking about. Let us show you.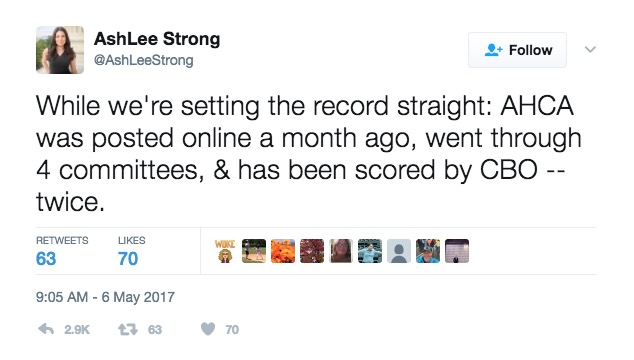 Look at this tweet from Paul Ryan's national press secretary AshLee Strong about her boss's pet project. See how the replies far outweigh the retweets and favorites? That, friends, is The Ratio.
Strong's ratio is not good.
She set off a Twitter firestorm today when she insisted that the American Health Care Act was posted online and received a Congressional Budget Office score. When the AHCA passed in the House a few days ago, two chief complaints from Democrats and voters were that it had been shrouded in secrecy and hadn't received a CBO score. Obviously, the AHCA only got through the House the other day after not making it through in March. The reasoning behind that is precisely why people are annoyed with Strong for claiming that there were total transparency and a CBO score to go along with the vote this week. Let Twitter user/MSNBC host Chris Hayes explain.
that literally transformed the bill from one that couldn't get a majority to one that just passed the house. Pretty significant! 2/2

— Christopher Hayes (@chrislhayes) May 6, 2017
The amended version passed. The previous, unamended version did not. The amended version didn't have a CBO score. The previous, unamended version did. You get the picture? These people do.
@AshLeeStrong Could you share a link to the CBO score of the final text of the bill as amended?

— Matthew Yglesias (@mattyglesias) May 6, 2017
@AshLeeStrong Hi! I'm the managing editor for @Snopes and we'd also love links to back this claim + the current score. Thanks!

— Brooke Binkowski (@brooklynmarie) May 6, 2017
@AshLeeStrong If the bill was scored as amended, it's weird that @pbump felt compelled to write this on the morning of the vote https://t.co/XeAqgdtYyG pic.twitter.com/5g93x8KGdB

— Robert Maguire (@RobertMaguire_) May 6, 2017
@RobertMaguire_ @AshLeeStrong It was scored as amended … before the March collapse. It wasn't scored with the amendments made in late April.

— Philip Bump (@pbump) May 6, 2017
That didn't matter. Strong held to the CBO scores from the unamended version, tweeting them out.
CBO has scored #AHCA twice. #facts

March 13: https://t.co/fqlMGmPVdz

March 23: https://t.co/OAJ4M7lhEP

— AshLee Strong (@AshLeeStrong) May 6, 2017
@AshLeeStrong and the fact that you're defending a bill that disqualifies rape victims from getting health coverage is disgusting.

— cx (@cxcope) May 6, 2017
Again, she was met with resistance and her second tweet had another stunning ratio.
Neither of these are the bill that was voted on. https://t.co/ij35ESB7n5

— Kai Ryssdal (@kairyssdal) May 6, 2017
@AshLeeStrong Trump administration said this week hadn't been scored. Are you calling Trump a liar? https://t.co/6sOqpmp3cG pic.twitter.com/qbIm1Y8ZWA

— Danny Sullivan (@dannysullivan) May 6, 2017
@AshLeeStrong This is like proving you paid your phone bill by showing your electric bill.

— Tony Posnanski (@tonyposnanski) May 6, 2017
@AshLeeStrong Okay. Now show us the one for the version of the bill that was voted on.

— Parker Molloy (@ParkerMolloy) May 6, 2017
Maybe the strangest part of all of this is how deeply unflattering the CBO scores were for the original health care bill in the first place.
Anyway, Strong is blaming what is undoubtedly a huge mess in her mentions on the left.
Reporters trying to reach me for inquiry, email is best today. My feed is cluttered w/ the "tolerant" left swearing at me.

— AshLee Strong (@AshLeeStrong) May 6, 2017
[image: screengrab]
Have a tip we should know? tips@mediaite.com