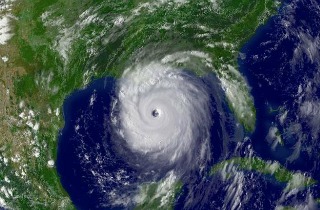 With the weather having been thoroughly politicized, it has also now become the latest front in the War on Women.
According to the results of a shocking study conducted by the National Academy of Sciences, Hurricane Bob is far more likely to kill you than Hurricane Betty. Why? Because you don't think Betty has the capacity to be a ruthless killer, you sexist jerk.
University of Illinois and Arizona State University researchers studying named hurricanes from 1950 to 2012 found female-named storms are almost twice as deadly as their male-named counterparts. The Washington Post's Jason Samenow, who flagged the study, notes that the link to gender stereotyping for this discrepancy in storm-related deaths becomes more pronounced when the systems bear "strongly female" names.
Sharon Shavitt, study co-author and professor of marketing at the University of Illinois, says the results imply an "implicit sexism"; that is, we make decisions about storms based on the gender of their name without even recognizing it.
"People imagining a 'female' hurricane were not as willing to seek shelter," Shavitt said.
Of course, the answer to the problem of life-threatening misogyny may be to ditch the current gendered system of storm naming and institute a system of numeric and alphabetic characters to identify Atlantic hurricanes. But there are pitfalls even to genderless storm classifications.
People may display an even stronger cognitive bias in which they perceive storm "A1" to be more deadly than storm "G6," even though the latter would have occurred later in the season and is thus likely to be deadlier.
Or maybe this is not a problem at all and those who incorrectly judge a storm's lethality by its name are yielding to a Darwinian process of natural selection.
Food for thought.
[Image via Ho New / Reuters]
— —
>> Follow Noah Rothman (@NoahCRothman) on Twitter
Have a tip we should know? tips@mediaite.com