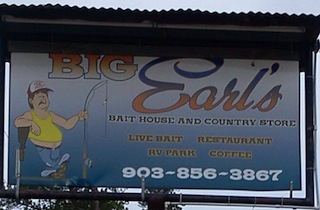 Revenge, unlike most east Texas grub, is a dish best served cold. In the week since Collin Dewberry and his partner Kelley were asked not to return to Big Earl's Bait House and Country Store due to a "no fags" policy, the diner has been Yelp bombed into a highly-rated gay bar.

The couple had already paid their check when the owner's daughter directed them to a sign about men acting like men and women like women (the "no saggy pants" coda made it art). "To put it plainly," she told them, "we don't serve fags here."
No longer, according to Yelp, where users are praising the construction of glory holes and selection hot gay men strolling through the place (while several disdain the lesbian action). Some choice selections: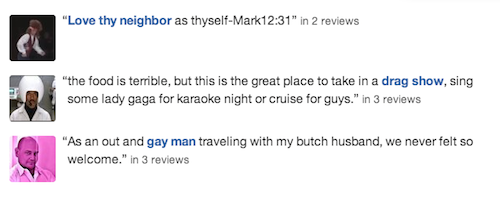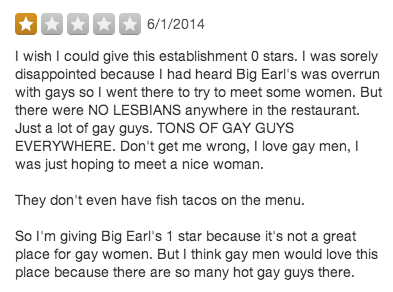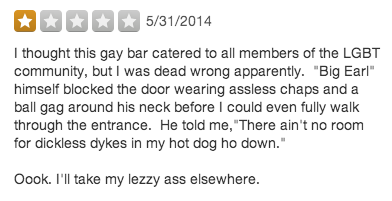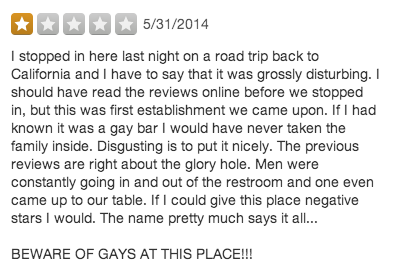 And that's before we get to the pictures posted. (Check out the soup of the day.) Oh, and most of the reviews were accompanied by a solitary star, thus destroying Big Earl's Yelp rating.
Doesn't sound like any of it is changing the minds of Big Earl's clan. A rumored trip to the diner by a cadre of the Dallas LGBT community has the owners' hair up. "If there's any problems, they will be taken care of appropriately," Christina Cheney, Big Earl's daughter and voicer of the no-fags policy, told CBS Dallas-Fort Worth. "We are aware that they are attempting to come out here. We're ready for them; we have informed the Sheriff's department and the state." But they did it like men.
[h/t Texas Monthly / CBS Dallas-Fort Worth]
[Image via Big Earl's]
——
>> Follow Evan McMurry (@evanmcmurry) on Twitter
Have a tip we should know? tips@mediaite.com