Suspended Politico Reporter Joe Williams Tweeted 'Racism' Politico's 'Secret Sauce'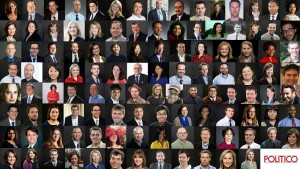 Politico White House correspondent Joe Williams, who was suspended by the site for commenting that Mitt Romney felt "relaxed" in the company of the "white folks" at Fox and Friends, tweeted in March that "what's most irritating is the overlay of blatant racism. that's the secret sauce in the Politico shitburger," reports The Daily Caller's Dave Martosko. Martosko also reported an earlier tweet which read "we're supposed to be about justice and the truth, but we're mostly about posturing, arcane rules and CYA [Cover Your Ass]. annoying."
Martosko reports that Williams commented on the tweets "I was having a bad day," then referred him to attorney Jeff Jacobovitz for comment. As Martosko pointed out, it's possible that Mr. Williams intended those tweets to be private direct messages.
That tweeted accusation of racism, along with the fact that Williams has retained legal counsel, are intriguing developments. When Joe Williams was hired in June of 2010, Politico was under fire over a perceived lack of diversity in its newsroom after a CNN video segment on one of the site's editorial meetings revealed a lily-white, mostly male team of decision-makers. When Mr. Williams was hired as deputy White House editor, he became the site's first black originating editor, joining director of photography Michael Schwartz and reporter Abby D. Phillip as the only black members of Politico's editorial staff.
Williams was subsequently demoted, however, and his Politico bio now describes him this way:
A veteran political journalist and telegenic, quick-witted analyst, Joseph Williams is the White House Correspondent for Politico, where he covers the Obama administration cabinet and domestic policies, as well as examining the intersection of race and politics.
Mr. Williams has become a regular on the cable news circuit, which is where he ran into trouble while examining that intersection of race and politics.
Politico has thus far declined to comment for Mediaite (as has Joe Williams), but a review of the 114 editors and reporters listed on the site reveals that, including Joe Williams, Politico employs six black reporters and one black editor, Politico Pro Deputy Managing Editor LaRonda Peterson. While diversity is a problem for the news media in general (The Daily Caller is whiter than Hoth camo), the racially-charged suspension of Joe Williams, and his as-yet-unexplained charge of racism at the site, could make it a factor for Politico, especially considering the two years that have elapsed since they came under fire for it. While even Joe Williams concedes his words were poorly chosen, dismissing him could be problematic for Politico, should they decide to go that way.
Follow Tommy Christopher (@TommyXtopher) on Twitter.
Have a tip we should know? tips@mediaite.com