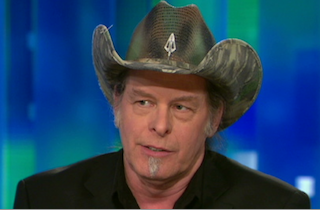 "Hi, I'm Ted Nugent. I have nine children from seven women, and I'm running for president," the aging rocker recently said to a Washington Post Magazine reporter, taking a potential campaign slogan for a test drive. "Yeah, I'm thinking about it," he continued, leaving no doubt that the politically active front man was earnest in his desire to throw his hat into the electoral arena.

RELATED: Ted Nugent Tells Alex Jones Why U.S. Soldiers Commit Suicide: Because Obama 'Violates Constitution'
"Nugent can deliver an improv rant on any political prompt, rhetorical torrents packed with stats, metaphor, profanity and an inextinguishable righteousness that has drowned out opponents from Piers Morgan to Roseanne Barr," The Post profile reads. "There are no opinions, only his truth."
"He's a born campaigner, indefatigable on the road and used to hopscotching the country," the piece continues.
Republican political consultants the Post spoke with were less sanguine about the prospect of a Nugent run than the rocker seems to be.
"All the things he gets a pass on now, he wouldn't get away with as a candidate," said GOP political consultant Ralph Reed. "Let's face it, besting Piers Morgan is a fairly low bar. Nothing against Piers, but that's not exactly Oxford debate."
"It would be a very good thing for the Democrats," Democratic consultant and CNN contributor Paul Begala added. "How many people would look at a 60-year-old man with long hair and a loincloth screaming the C-word about Hillary Clinton and say, 'I wanna be like him?'"
Read the profile via The Washington Post
> >Follow Noah Rothman (@NoahCRothman) on Twitter
Have a tip we should know? tips@mediaite.com