The 5 Funniest, Craziest, Most Insane Moments From ESPN's Feature on the Bennett Brothers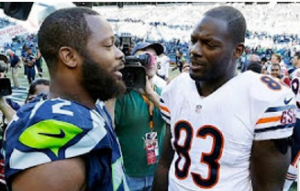 Earlier, we posted about NFL-playing brothers Michael and Martellus Bennett sounding off on the league's labor situation, past and present.
But there was oh so much more to the lengthy ESPN The Magazine feature on the brothers. Writer Mina Kimes spent several days in Los Angeles with the Bennetts, and was able to capture a bushel of hilarious scenes and soundbites along the way. Here are just a few of the highlights:
The Bennett brothers address their "coachabililty"
"I've clashed with coaches," Michael said.
"I've always been very coachable," Martellus said. "I mean, there was that one time I made the song 'Throw Me the Ball, Coach' … but that was just the chorus."
Classic. Still, Martellus has a long way to go to catch Keyshawn Johnson, who wrote a whole book with that title.
The Bennett brothers roast the NFL
The duo teed off on a number of NFL notables, and it was just the best. On Los Angeles Rams head coach Jeff Fisher:
Martellus: "If a QB went 7 — 9, he'd never be able to find a job."
Michael: "Make sure he's in the NFC West."
On Denver Broncos quarterback Brock Osweiler:
Michael: "I've got more sacks than he's got touchdowns." (This is accurate.)
Martellus: "I've caught more balls than he's completed." (Also accurate.)
On Seattle Seahawks head coach Pete Carroll:
Martellus: "Joel Osteen."
Michael: "Tom Cruise. I feel like Pete Carroll is like Benjamin Button. He doesn't want to get old. He's getting younger every year. What is going on?"
Martellus: "That's what money does."
On NFL commissioner Roger Goodell:
Michael: "A–hole. Nah, I'm just joking — you can't say that. Overpaid."
The Bennett brothers really roast Philadelphia Eagles quarterback Sam Bradford
The Bennett boys saved their best sarcastic putdown for the embattled Eagles QB:
(Both smirk.)

Michael: "The greatest quarterback in the NFL."

Martellus: "Vicious. Competitive."

Michael: "A real Joe Montana."
The Bennett brothers mess with a waitress
As writer Kimes notes, "At any given moment, they might be screwing with you." To wit…
A waitress approaches and asks Michael whether he ordered the roast chicken. "Don't be racist," he says, a joke that causes her hands to tremble a little as she sets down the plate. (He did, in fact, order the chicken.)
The Bennett brothers encourage you to use protection
This was the story's lede, and it was absolutely perfect.
Michael and Martellus Bennett tend to perplex people. This becomes clear when we stop for lunch at a West Hollywood café, the kind of crunchy, actressy place that serves food on wooden boards. The brothers split up as soon as they walk in. Michael circles a display of expensive sweets ("I don't eat American chocolate," he sniffs), and Martellus hovers near the entrance, offering health and safety advice to customers as they leave the restaurant. "Wrap it up," he counsels a man walking out the door. The guy stares at him, trying to deduce why a stranger is telling him to wear a condom.
[image via screengrab]
–
Follow Joe DePaolo (@joe_depaolo) on Twitter
Have a tip we should know? tips@mediaite.com
Joe DePaolo - Senior Editor