The 5 Most Shocking Revelations in Report Alleging Sharpton Was an FBI Informant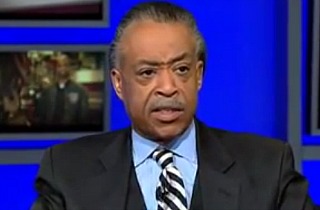 A thorough and extensive report in The Smoking Gun, complete with affidavits and supportive documents, alleges that MSNBC host Rev. Al Sharpton worked for a period with the Federal Bureau of Investigation to inform on and secretly record members of the mafia.
The report strongly implies that it is shocking that Sharpton, or Confidential Informant Number 7 ("CI-7"), is connected to some of the most powerful entertainers and politicians in the country, including the President of the United States, has thus far evaded exposure. "He spends his time at 30 Rockefeller Plaza surrounded by reporters, editors, and researchers committed to accuracy and the exposure of those who violate the public trust," The Smoking Gun's authors note with a hint of incredulity.
That is a striking detail, but the most shocking aspects of their expansive report involve how Sharpton became involved with the mafia and was "flipped" into working with the FBI and eventually was forced to attend meetings with Gambino and Genovese family members whom he secretly taped.
1: Sharpton Was Essentially a "Mafia 'Associate'"
According to the report, Sharpton was involved with organized crime. An associate in a mafia relationship, the report alleges, plays "central roles in a crime family's operation." Sharpton's relationships with boxing promoter Don King and the music industry made him a figure of interest to both the mafia and the FBI.
2. Sharpton Was "Flipped" When the FBI Offered Him Cocaine
"Sharpton was secretly recorded in meetings with an FBI undercover agent posing as a wealthy drug dealer seeking to promote boxing matches," The Smoking Gun's report alleges. "During one meeting with Sharpton, the undercover agent offered to get him 'pure coke' at $35,000 a kilo. As the phony drug kingpin spoke, Sharpton nodded his head and said, 'I hear you.'"
While there was apparently some dispute within the FBI as to whether Sharpton had violated federal conspiracy laws, the bureau nevertheless confronted him with the tape of his interaction with an undercover agent. Sharpton agreed to cooperate.
3. Music Industry Extortion
Though R&B star James Brown and executives at Spring Records, Sharpton was introduced to a variety of Gambino and Genovese crime family members. Sharpton's venture into the music industry connected him with Robert Curington, a music producer who was arrested on several occasions for trafficking drugs.
Curington and Sharpton worked together to pressure music labels to "spend more money in the black community" and "threatened to organize pickets and boycotts unless a target handed over money — usually in the form of a contribution to the National Youth Movement, a predecessor organization to Sharpton's National Action Network."
Curington had numerous connections to mafia figures including, Morris Levy, Joseph "Joe Bana" Buonanno, a music producer and convicted drug trafficker, and Joseph Pagano, a "solider" the FBI suspected had been involved in several "underworld hits," in order to get "approval for certain music business endeavors."
4. Sharpton Goes "Operational"
Sharpton was transitioned at this point from "information to operational" FBI asset. Agent John Pritchard, who handled Sharpton and worked with the Bureau's "Genovese squad," allegedly paid Sharpton for his services.
"Carrying the wired briefcase, Sharpton met with Buonanno on a Wednesday afternoon and recorded their conversation," the reprot alleges. "While it was a short and uneventful encounter, the pair's next meeting would prove valuable for the Genovese squad."
At a subsequent meeting between Sharpton and Buonanno, the connected music producer would open up about his relationship with Levy, Carlo Gambino, and Vincent "Chin" Gigante. "Over the following months, Sharpton met with Buonanno eight more times, surreptitiously recording the Gambino member on each occasion," The Smoking Gun continued.
Buonanno, said Curington, had a low opinion of Sharpton, and called the 300-pound preacher a "nose picker" behind his back. The gangster, who died of throat cancer in 1998, might have resorted to harsher actions had he ever learned about Sharpton's secret life as "CI-7."
5. Arrests Resulting from Sharpton's Work
Using the information gathered by Sharpton, the FBI engaged in a campaign of wiretapping and bugging aimed at listening in on a series of mafia members who have since become legendary figures in American popular culture.
"The section of the FBI wiretap affidavits containing the fruits of Sharpton's cooperation was titled "The Extortion From and Control of Morris Levy," the report continues, noting that the Bureau went to lengths to protect "CI-7's" identity.
The investigations eventually proved successful and a series of mafia figures were eventually arrested. "Each defendant subsequently pleaded guilty to various criminal charges, so there was no public presentation of evidence against the men," the report added. "Which meant that OCTF prosecutors did not have to further expound on the indictment's allegation that Daniel Pagano 'solicited the use of a bank account of the National Youth Movement' to launder money."
Sharpton, who controlled that account, would have been outed as an informant if these cases went to trial.
[Photo via screengrab]
 — — 
>> Follow Noah Rothman (@NoahCRothman) on Twitter
Have a tip we should know? tips@mediaite.com