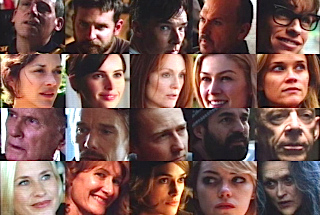 If you don't count The LEGO Movie, the biggest snubs of this morning's 2015 Oscar nominations were all about Selma. Yes, the film received a Best Picture nomination as well as one for John Legend and Common's song "Glory," but the film film failed to score nominations for director Ava DuVernay, actor David Oyelowo, or any other categories.
In my predictions yesterday, I went out on a limb and suggested that Selma would overcome the total shut-outs it received from every major Hollywood guild — the DGA, PGA, WGA and SAG — and walk away with at least a few more nominations in the major categories. Sadly, I was wrong.
But even more striking than the fact that DuVernay will not have the honor this year of being the first African-American woman ever to be nominated for Best Director, is the fact that all 20 acting nominees this year are white. The last time that happened was 1998.
The overwhelming whiteness of the field led to #OscarsSoWhite taking the top spot on Twitter's trending hashtag list Thursday afternoon:
#OscarsSoWhite that the statue counts as a Person Of Color.

— Hari Kondabolu (@harikondabolu) January 15, 2015
#OscarsSoWhite that Ferguson police will be providing security this year.

— Adam Mordecai (@advodude) January 15, 2015
#OscarsSoWhite Their dad wants them to consider law school but they really want to focus on their music right now.

— Matt Passet (@MPasset) January 15, 2015
#OscarsSoWhite he's spending the weekend at Downton.

— LOLGOP (@LOLGOP) January 15, 2015
#OscarsSoWhite Macklemore and Iggy Azalea have been asked to host

— BlackGirlNerds (@BlackGirlNerds) January 15, 2015
And then, of course, there was CNN's Bill Weir, who helpfully reminded everyone why the Oscars are "so white" with this tweet about voter demographics:
Worth remembering that Oscar voters are 93% white, 76% male with average age of 63.
(h/t @latimes)

— Bill Weir (@BillWeirCNN) January 15, 2015
The shift away from actors of color is particularly noteworthy this year given last year's nominations, which saw Lupita N'yongo win Best Supporting Actress for 12 Years a Slave as well as acting nominations for her co-star Chiwetel Ejiofor and Captain Phillips' Barkhad Abdi. The year before that saw a Best Actor nomination for Flight's Denzel Washington and a Best Supporting Actress nod of Beasts of the Southern Wild's Quvenzhané Wallis.
You have to go all the way back to the year Titanic swept the Oscars to find a field utterly devoid of diversity. It was still another four years after that before Halle Berry became the first black actress to take home an Oscar for a leading role.
But it's not only the demographics of Oscars voters that are the problem. It's also the lack of quality parts and opportunity for artists of color in Hollywood. It's a big deal that the relatively unknown former studio publicist Ava DuVernay was given a $20 million budget to helm an epic story like Selma. As the leaked email conversation between Sony Pictures' Amy Pascal and producer Scott Rudin revealed, many in Hollywood view "black" movies as something other and different from the industry's main business.
At this past Sunday's Golden Globe Awards, Tina Fey had this to say about Selma: "The movie Selma is about the American Civil Rights Movement… that totally worked and now everything's fine."
As funny as that moment was, it really does capture the feeling of what it was like to watch Selma after a year in which several unarmed black men (and one young boy) were killed by police officers who will face no justice for what they did. And it highlights why it's so important for the film industry to not only celebrate the work of non-white actors, directors, screenwriters and more, but also give them the opportunity to share their vital stories with the world.
[Photo via screengrab]
— —
>> Follow Matt Wilstein (@TheMattWilstein) on Twitter
Have a tip we should know? tips@mediaite.com