The Media's Awful Coverage of the Gaza Violence is Precisely the Propaganda Hamas Desires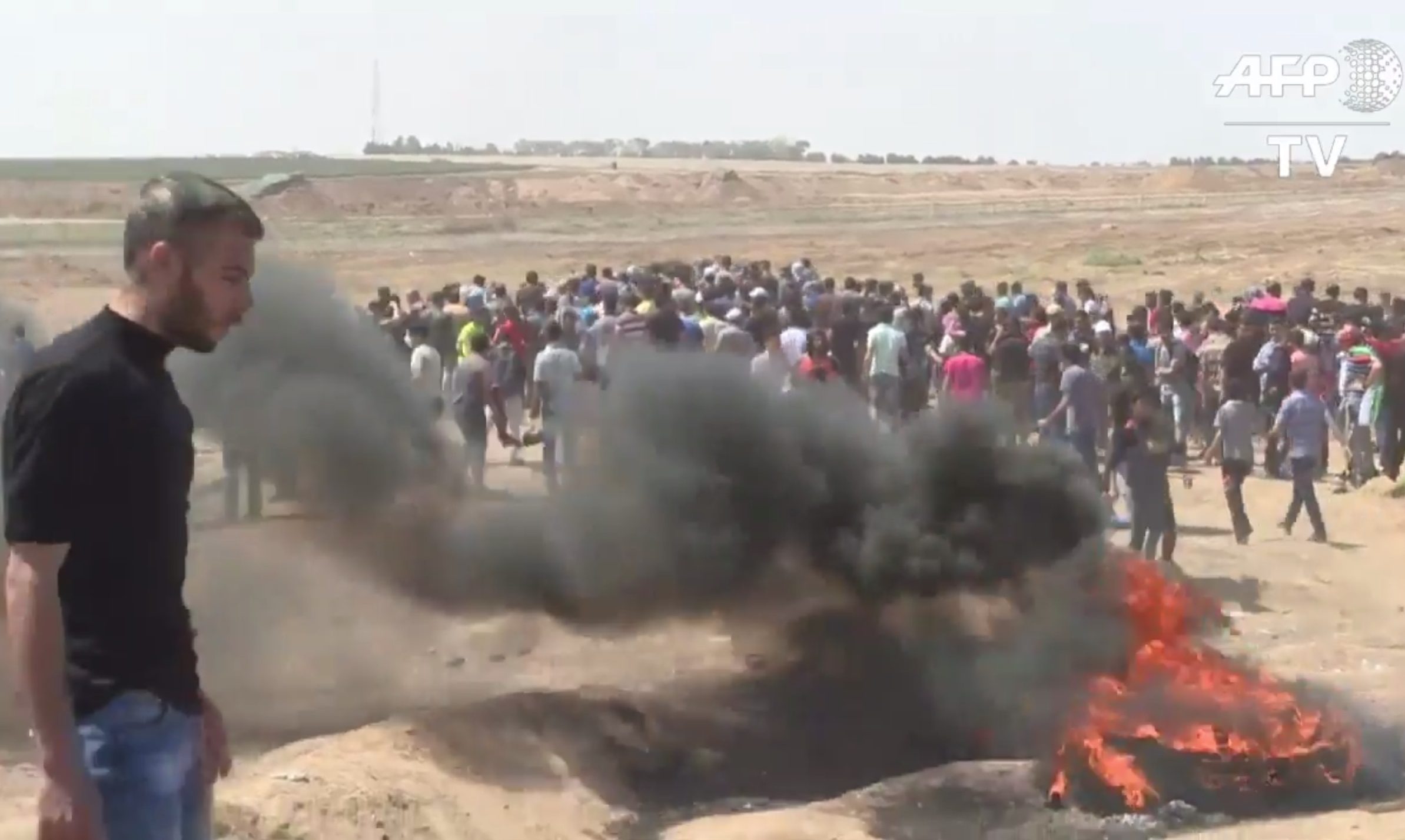 Any person capable of emotion is saddened by any loss of life, especially innocent life. But when it comes to the media's coverage of the violence that took place at the Gaza Strip this week, not only are they giving inaccurate information, they're being dishonest or just completely naive.
Its nothing new when it comes to coverage of Israel; some on the left including many in media, portray the Jewish State as a sort of unprovoked oppressor of the Palestinians. The New York Times ran the headline "Israel Kills Dozens at the Gaza Border as U.S. Embassy Opens in Jerusalem," painting Israel as a sort of sociopathic killer for the concurrence of the two events. Much of the media's blame for the violence this week was placed on the Trump administration despite the fact it's been going on for months (or years if you really want to be honest). The Guardian ran a headline, "Israel: Trump's New Embassy Opens – And Dozens Are Killed" before they softened it a bit. The New York Daily News really put the distasteful icing on the cake when they branded top White House advisor and First Daughter Ivanka Trump, who attended Monday's ceremony, as "Daddy's Little Ghoul."
But what much of the media neglects to tell its viewers and readers is that the deadly demonstration in Gaza was organized by Hamas, a terrorist organization whose never-ending mission is to kill Jews and destroy Israel. Israel did not decide to suddenly start shooting people, Hamas decided to send people to the border knowing exactly what the outcome would be. In fact, buried in a Washington Post report, one of the supposed "protestors" was asked what he'd do if he made it inside Israel. His response, "Whatever is possible, to kill, throw stones."
If you take much of the media's words at face value, these were a collection of peaceful protestors who were gunned down by the evil Israeli Defense Force.
Several in the media, notably MSNBC reporter Matt Bradley, described the protestors as "unarmed." He quickly admitted they had some "light weapons."
Those "light weapons" include molotov cocktails and grenades.
But that didn't stop Chelsea Handler from tweeting to her 8.8 million followers that they had "no weapons" at all.
Nikki Haley is on tv talking about Hamas being responsible for the Palestinians protesting yesterday. These people had no weapons. They had tires to burn. There was a dead baby. While Netanyahu celebrates.

— Chelsea Handler (@chelseahandler) May 15, 2018
Can you really blame her? She was probably watching MSNBC.
Plus, footage that has been shared on social media shows these protestors shooting down an Israeli drone that was dropping tear gas. It must be pretty difficult to shoot down a drone without a gun…
This video shows Palestinians in Gaza shooting down an Israeli drone moments after it released tear gas https://t.co/YLS1CDiJGV pic.twitter.com/CPwQh3Vpzq

— CNN (@CNN) May 15, 2018
Meanwhile, a senior Hamas official went on television in the aftermath of the bloodshed to boast that "50 of the 62 martyrs were Hamas."
Senior Hamas official sets the record straight on who was killed in last Hamas-orchestrated riots: "50 of the 62 martyrs were Hamas". Take his word for it. This was no peaceful protest. pic.twitter.com/oop2y3oWrB

— Jonathan Conricus (@LTCJonathan) May 16, 2018
In other words, it's misleading, and just inaccurate, to describe those rioting at the Israel-Gaza border as simple protestors. Many of them were terrorists.
Back in the United States, however, now you have many in media suggesting the Israeli response cannot possibly qualify as defense, because they didn't lose any lives in this latest clash.
NBC News published an opinion piece written by Haroon Moghul says "A hugely disproportionate number of Palestinians die, while few if any Israelis ever do (in this case: zero). Still Israel claims it is defending itself," something the author believes is a "double standard."
Haroon Moghul: "A hugely disproportionate number of Palestinians die, while few if any Israelis ever do (in this case: zero). Still Israel claims it is defending itself." via @NBCnewsTHINK https://t.co/O4eDk4ToGy

— NBC News (@NBCNews) May 16, 2018
Essentially, even when that side is provoking the violence and is warned to not approach the border, it's Israel's fault. And as Hamas themselves have stated, 50 of the 62 were terrorists.
There seems to be a collective amnesia within the media that is ignorant of the reality that Hamas orchestrated these protests in Gaza. And as various op-eds like Moghul's make clear, this stems from a reflexive animus towards Israel. Hamas knows how to play the media like a fiddle, which is exactly why they use women and children as human shields.
Despite the fact that the vast majority of those killed were terrorists, everyone hears about the children who were thrust into danger by Hamas. Specifically, dozens of media outlets like Vice News and The Hill ran with the story of an eight-month old baby girl who supposedly died from tear-gas inhalation. But now it's being reported by the Associated Press that a doctor in Gaza believes the baby actually died from a preexisting medical condition. Both causes of death are devastating, but since the falsehood that Israel killed the child overshadowed the facts, it becomes a narrative victory for Hamas.
What's more, the Palestinian Health Ministry has been sourced for the stat that over 2,700 protestors were injured in the clashes. Are we supposed to take them at their word? We cannot forget that Hamas has injected itself into the Palestinian government like a cancer. What's stopping them from inflating the number? As Commentary's Noah Rothman notes, the claim that thousands were injured by "live fire" should be met with skepticism. In almost any other context, the mainstream media would provide serious caveats to those numbers. But this is different. This is Israel.
This week, the coverage surrounding the embassy opening and the Gaza violence marked an unholy union between the media's anti-Israel bias and its hostility towards President Trump. Together, they create fertile ground for irresponsible journalism to flourish.
A more accurate headline would read Hamas Succeeds in Getting American and European Media Outraged Over Embassy Move. Hamas is responsible for the bloodshed, but the media giving them a pass while condemning the Trump administration for upholding a decades-old promise from the U.S. and Israel for defending itself is exactly the propaganda Hamas desperately desires.
[image via screengrab]
This is an opinion piece. The views expressed in this article are those of just the author.