Here's Two Guys Playing a Totally Chill Round of Golf While a Massive Volcano Erupts Behind Them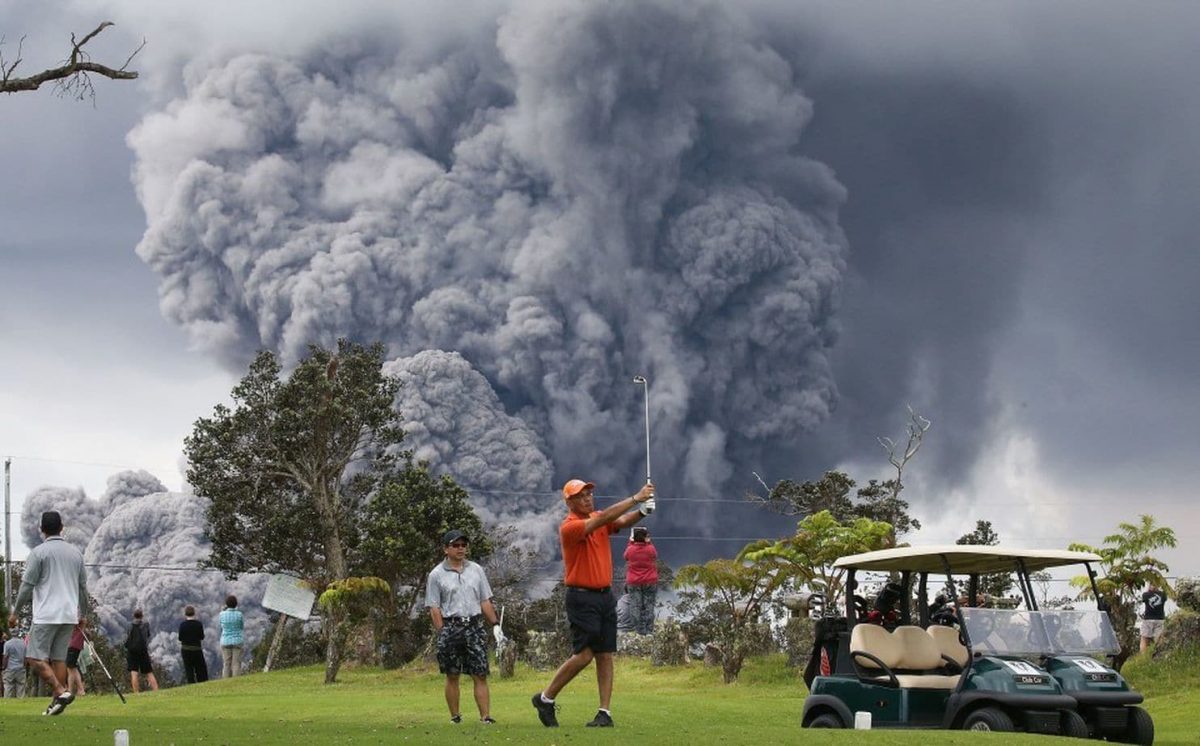 Happy Thursday, everyone. It's a rainy, gloomy day in New York City…and a freaking volcano just erupted in Hawaii.
Who cares? Most certainly not these two dudes who were going to get in their 18, come hell or high lava.
The Kilauea on the island of Hawaii (different than the state of Hawaii, which is made up of eight separate islands) coughed up sulfur dioxide, a noxious gas which can restrict breathing and reduce a man who is, say, teeing off on the seventh hole into a crumpled khaki-clad heap gasping for air.
But you know what they say: You can't keep a good golfer down. Nothing stands in the way of a game, not even Getty photojournalist Mario Tama, who was trying to document the plume of black smoke rising into the atmosphere and made the mistake of stepping onto the fairway.
According to The Washington Post, Tama got a tip Wednesday morning that the volcanic crater at Hawaiʻi Volcanoes National Park was particularly active, and so he rushed to the aptly-named Volcano Golf and Country Club to get a closer look.
"I walked over to the left and they started to tee up and that's when I shot those photos," he told the Post in a phone interview.
The nerve! Tama didn't even realize what he was doing until the golfers yelled at him to get off the damn course.
"Clearly some locals know that was a good spot to see the activity, but it never occurred to me that I'd actually see folks playing golf as this was happening," he said.
Well of course they are, Mario. If you have a tee time and a couple of buds in Hawaii, you are not stopping your round for anything — especially not for something as unremarkable as an erupting volcano.
"I still can't understand it. They seemed to be completely nonplussed," he said. "I don't even recall them even looking at [the eruption]. They were completely focused on their game."
Now that's how the game is played. Keep on keeping on, boys. Your priorities are absolutely straight.
[image via Getty]
Have a tip we should know? tips@mediaite.com