The New Yorker Lashes Out At Glenn Beck, Says He Took Soros Profile Out Of Context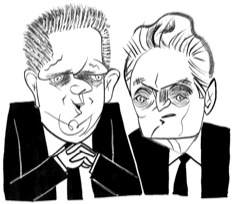 Glenn Beck's recent three-part examination of George Soros's supposed plans for world domination has ruffled a lot of feathers. Now The New Yorker's Hendrik Hertzberg has written his own Beck rebuttal, excoriating the Fox host for taking quotes from a New Yorker profile of Soros out of context.
Hertzberg's takedown of Beck, from the magazine's November 29 issue, is snarky in a very New Yorker sort of way. Here's a sample sentence: "Call us oversensitive, but when our efforts are shanghaied like a nineteenth-century sailor and forced to work as a deckhand aboard a ship of lies, we can't help getting our hackles up." Somebody's got his monocle-chain in a twist!
And there's much more where that came from:
You don't have to be a professional semiotician to see that the Glenn Beck promo is intended to leave the impression that George Soros, the hedge-fund investor and funder of anti-totalitarian and liberal causes, is an anti-Semite; that he was somehow complicit in the Holocaust; and that he is an enemy of Israel. These are lies—lies told by innuendo, but lies all the same. The promo's shard of truth is that "The World According to Soros" was indeed published in The New Yorker. Its author was Connie Bruck. ("Bruc" is a Fox flub, not a Fox fib.) The quotes from it, though accurately transcribed, are made to function as lies by being placed in an utterly mendacious context. Bruck's article is the "source" of these smears only in the sense that the brooks of the Catskills are the "source" of New York City's sewage.
The writer goes on to give a short biography of Soros, then blasts Beck again for painting the billionaire as "a deeply evil figure, a shadowy manipulator whose marionettes include unions, the Democratic Party, the media, and the President."
Hertzberg's kicker is that by accusing Soros of both controlling the media and trying to destroy America only to satisfy his own greed, Beck is using the tropes of "classical anti-Semitism" to characterize his opponent. Hertzberg acknowledges that neither Beck nor his audience may have realized this; even so, he says, there is deep irony in Beck calling Soros anti-Semitic.
Read the rest of Hertzberg's attack at newyorker.com.
Have a tip we should know? [email protected]
---