The Plot Thickens: Trump's Fictional Ad Agency Does Exist, It's Just Shady As Hell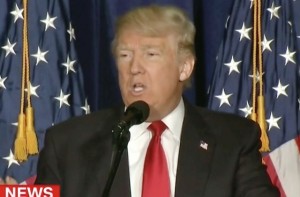 Mediaite reported Tuesday morning that Donald Trump's campaign gave $35,000 to "Draper Sterling," the fictional ad agency from Mad Men. But now more details have emerged showing that, as bizarre as it sounds, Draper Sterling actually does exist in real life… it's just that no one knows what exactly it's supposed to do.
ThinkProgress's Judd Legum, who first noticed the payments, did more digging and discovered that Draper Sterling was created in March and registered with the New Hampshire Secretary of State. The man who registered the company, Jon Adkins, is business partners with New England Republican strategist Paul Holzer. Both men have also received money from the Trump campaign.
Here's where things get weird: Draper Sterling was also accused of wrongdoing in an FEC complaint filed by a Mizzou economics professor a month ago. Going through the financial disclosures of the Super PAC Patriots for America, the professor noticed serious incongruities. In particular, Draper Sterling was loaned $56,234 for "business consulting," despite supposedly having zero expenditures. Patriots for America, the professor warned, was likely a scam and breaking several election laws.
So what's the connection? "Patriots for America is run by Adam McLain, who is Paul Holzer's brother," reports Legum. The phone number listed for Patriots for America connects to a New Hampshire cafe owned by Draper Sterling founder Jon Adkins. When Legum called the number, McLain (who supposedly lives in Virginia) picked up.
"A Republican consultant familiar with McLain and Holzer described Draper Sterling as 'a front for Paul Holzer,'" Legum recounts, "and speculated that it was more likely that Adam McLain was doing the actual work and Holzer was 'taking a cut.'"
[Image via screengrab]
——
>>Follow Alex Griswold (@HashtagGriswold) on Twitter
Have a tip we should know? tips@mediaite.com