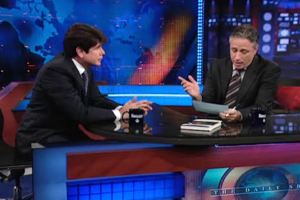 For most people who have been following the Rod Blagojevich corruption scandal and subsequent near-acquittal, the only question left to ask when he was found innocent (sort of/not really) of 23 of 24 corruption charges was how long it would take for the media-loving personality to come running back to television. Answer: three days. Blagojevich will be on Today tomorrow to describe his court experience and will be paying Jon Stewart a visit on Monday.
Blagojevich's publicist Glenn Selig has been working more than ever since the trial started today, sending out several press releases and presumably booking his client all over our TVs and radios. NBC landed the first exclusive interview; Blagojevich will be talking to Meredith Vieira tomorrow morning. Also on the list is Fox News' Chris Wallace (Blagojevich will be doing his serious interview on FOX News Sunday) and The Daily Show.
It won't be the first time Blagojevich sits down with Stewart– he appeared on the Daily Show for a three-part interview last September to drum up support for the upcoming trial.
The full schedule, which also includes stops at various radio outlets, below, and the full press release from The Publicity Agency here.
ROD BLAGOJEVICH SCHEDULE:
FRIDAY:
Time (ET)
7:00am TODAY show (NBC)- New York
8:00am WLS-AM Radio – Don and Roma show
4:00pm WVON Radio – Cliff Kelley

SATURDAY:
No interviews

SUNDAY:
9:00am FOX NEWS SUNDAY (Fox)- Washington, D.C.

MONDAY:
11:00pm THE DAILY SHOW with Jon Stewart (Comedy Central)- New York
Have a tip we should know? [email protected]