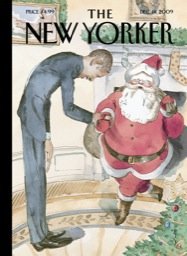 The recent New Yorker Christmas cover, featuring a brilliant Barry Blitt illustration of President Obama bowing deeply to Santa Claus, reminds us of how much we like the long tradition of magazines making bold holiday statements on their covers for the December issue. We went to our local newsstand looking for more of these covers and found… very little. What was once considered essential for any magazine worth its ink and paper has now obviously been banished by an aggressive War on Christmas Magazine Covers by the Forces of Evil.
Once upon a time the December newsstand was filled with angels, Christmas trees and Santas of all shapes and sizes. And this wasn't just Christian iconography; these were covers that were funny, creative, surprising, provocative, that made political statements, and most of all, that engaged their readers in a visual dialogue. Now, with the notable exception of the New Yorker, the only attempt at Christmas creativity comes on the occasional women's service magazine, with sad little plates of cookies or fruitcakes. We're going to get all George Lois here and say that what was once an opportunity for brilliant magazine-making has now become just another set of bland, focus-grouped, by-the-numbers covers, put together by folks who are scared stiff of offending or provoking anyone.
Esquire, Fortune, Playboy, Vanity Fair, New York: it's time to put the X back into those December covers! End the War on Christmas Magazine Covers. Who knows, magazines might even increase those newsstand sell-through numbers that are all doing so terribly if they just get back into the holiday spirit.
We've collected the Top 20 Christmas Magazine Covers of All Time. In the interests of non-sectarianism, we avoided covers that were mere reproductions of classic Christmas religious art. We stuck with Santa Claus, Christmas trees and gifts, and we found a lot of great ones. Who could deny that our world would be a much better place with a return to this fun and soulful style of magazine covers?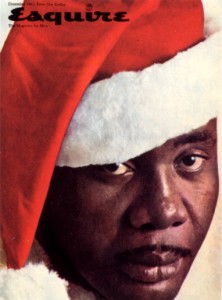 Esquire, 1963: The classic George Lois-designed December 1963 Esquire cover, featuring world heavyweight champion Sonny Liston.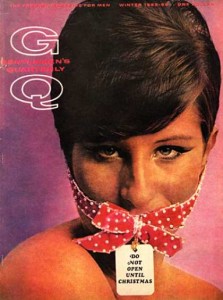 GQ, 1974: GQ, back in 1974, when it was known as Gentlemen's Quarterly, featuring Barbara Streisand.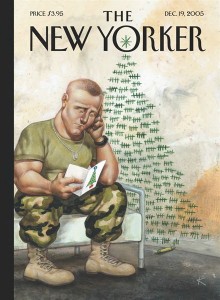 The New Yorker, 2005: We've got to give many props to The New Yorker, for maintaining a high quality of holiday covers. This one, by illustrator Anita Kunz in 2005 captured the middle-of-the-Iraq War malaise perfectly.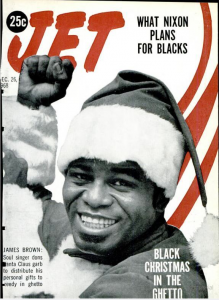 Jet, 1968: Jet magazine has a long history of putting celebrities in Santa outfits on their covers. Bill Cosby, Marvin Gaye, Sherman Hemsley (twice!) have all graced the cover, but none was better than the Godfather of Soul, James Brown, celebrating Black Christmas in the Ghetto in 1968.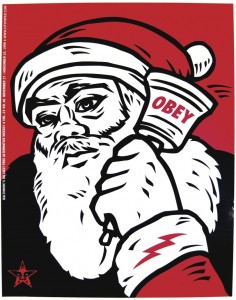 Baltimore City Paper, 1999: Back in 1999, Shepard Fairey was still a scrappy street artist and poster-maker. He did this cover for alternative weekly newspaper Baltimore City Paper, who ran it just like this, without headlines or even a cover logo.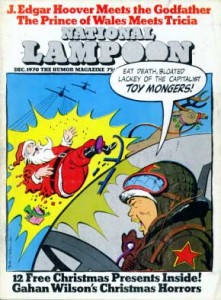 National Lampoon, 1970: This December 1970 cover of the National Lampoon is a classic, with fighter planes from an unidentified Asian Communist country (North Vietnam? North Korea?) shooting down poor Santa as they yell "Eat death, bloated lackey of the capitalist toy mongers!"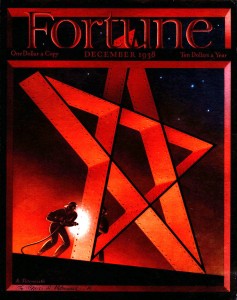 Fortune, 1938: For many years after its launch in 1930, Fortune ran beautiful, elegant, illustrated holiday covers. We could have filled a whole list of 20 with their brilliant selections, but this one, from 1938, by Antonio Petrucelli, struck us as singularly memorable.
Have a tip we should know? tips@mediaite.com