Bad Idea: Band Promotes New Single By Blocking LA Commuters And Playing Atop Parked Truck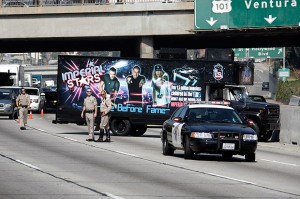 In our era of reality TV shows and high profile socialites, one of the most profound questions has been, is it worth being famous if you're only famous for being a total jackass? Apparently the Los Angeles-based band Imperial Stars has answered the question yesterday with a resounding "Yes!" In an attempt to promote their new single, "Traffic Jam 101," the wacky group decided it would be a good idea to take a truck and purposefully cause an actual traffic jam on LA's 101 Freeway during the morning rush hour. Congratulations, Imperial Stars, we now know your name. Also, an entire city is probably wishing for your death.
Here's how the stunt went down. The band drove down the freeway in a truck emblazoned with their names and faces and pulled it around, blocking half of the packed freeway. The driver then jumped out of the truck and drove off in another car, carrying the keys with him so that no one could move the vehicle. Then, in a further attempt to get shot promote their single, the band climbed up on top of the parked truck and began to sing the song for all of the poor drivers stopped in their place. Unsurprisingly, the back ups caused by this were horrendous. Also unsurprisingly, the Imperial Stars were soon arrested.
So, who is this band? Well, lets hear what their website has to say:
"The Imperial Stars are what they appear to be; ROCK STARS! Living on the Edge they're known for getting crazy and hanging out with their friends. Living the dream on stage under the heat of the lime light, Orange County California based amplified sound virtuosos cement themselves as one of the preeminent entertainment groups in popular music. Dynamic synthesizers, authoritative drum patterns and mainstay power vocals that remind even the average ear of greatness, The Imperial Stars pierced themselves into the heart of music history."
Yeah, rock on! Now, before you condemn the group, you should know that all of the money they receive from the single will apparently be going to "the aid of homeless children." Aw, that's nice. They just committed a crime for a good cause. They're kind of like modern day Jean Valjeans! Only stupid.
I'll leave the comparisons between their "hardcore hip hop" and the Les Miserables musical up to our readers. And feel free to check out some video from their freeway concert below.
(h/t The A.V. Club. Photo via the Los Angeles Times)
Have a tip we should know? tips@mediaite.com