This Trumps It All: See the Presumptive GOP Nominee on a Deck of 'Right-Wing Playing Cards'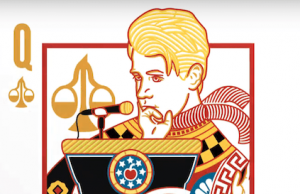 If you visit the website www.GetTrump.Cards, you'll see a countdown that says something like, "MUST BE FUNDED IN 14 DAYS 9 HOURS 11 MINUTES 38 SECONDS FOR THESE TO EXIST."
What are "these"?
54 ultra-premium playing cards depicting prominent right-wing personalities, of course. To get these suckers made, the creators, the Godesky Brothers, need $10,000. In two weeks, the Kickstarter has gotten almost $3,000 from 96 backers and counting.
Here's how they are describing their product:
We're making a full deck of 54 ultra-premium quality playing cards, portraying a certain iconic figure as various leaders of the Western world at key point in our history. The Queens, Jacks, Aces, & 10s of each suit will all be different people, but all of the kings are… You guessed it!
They even have a promo video:
Those 96 backers could be interested in any number of things. Maybe they are fans of Tila Tequila or Milo Yiannopoulos, both of whom are featured. Maybe they're into Gavin McInnes. Oh, or they could be big fans of Charles C. Johnson.
Current list of cards in our deck! A few more spots to go! #Trump #TrumpTrain #Trump2016 https://t.co/LzuyKWURZu pic.twitter.com/Qf9U4pEfHR

— Trump Playing Cards (@TrumpCardDeck) May 24, 2016
The Godesky brothers have been fundraising since May 10, meaning that in two weeks, they've achieved 30% of their goal with two weeks still remaining. Note that the majority of their donors have been giving more than $29 at a time. There are bonuses for those who give large amounts, of course, too; Kickstarter-exclusive poker chips can be yours if you give enough.
Nick Godesky explained that, "[Hillary] Clinton's webstore recently began to sell a 'Deck of Woman Cards' and a Kickstarter recently launched with the same concept; this is the reaction to those products."
If funded fully, the cards will go into production and sell for $15 per pack. Some of the themes potential customers can expect to see include "pro-Western culture/heritage" and "a return to masculinity."
Will you be buying?
[image via screengrab]
For more from Lindsey, follow her on Twitter or Facebook.
Have a tip we should know? tips@mediaite.com