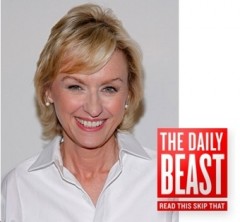 Wow, Tina Brown is very smart. The New York Times is reporting that Brown is set to launch a Daily Beast book imprint, Beast Books, in a joint effort with the Perseus Book Group. The imprint will publish both paperbacks and ebooks on a much faster schedule than traditional publishing keeps.
Also? The imprint "will select authors from within The Daily Beast's cadre of writers, most of whom are paid freelancers, to write books with quick turnarounds."
Also? Perseus is paying her "a five-figure management advance to cover the costs of editing and designing the books." From the article:
Ms. Brown said she believed books often missed opportunities to attract readers because they took too long to come to market. "There is a real window of interest when people want to know something," Ms. Brown said. "And that window slams shut pretty quickly in the media cycle."

*

Ms. Brown, a former editor of Vanity Fair, the New Yorker and the ill-fated Talk Magazine, said that there was a gap between online writing and full-length books that was no longer being fully met by a dwindling market for magazines. She envisioned most of the Beast Books titles as being 40,000 words—or about 150 pages. They would cover touchstone political and cultural topics first addressed on the Web site, as well as more personal memoirs. Perseus is paying The Daily Beast a five-figure management advance to cover the costs of editing and designing the books, and Perseus will distribute the titles through its existing sales force. The writers will receive low five-figure advances from Perseus and then split profits from the sale of both the e-books and paperbacks with Perseus and The Daily Beast. Ms. Brown said writers are not required to give Beast Books a first right of refusal on any book ideas they might generate.
Why is this so smart? For a number of reasons, actually. One, with this deal Brown has harnessed the power of her (not-yet-profitable) brand and basically leased it out to a struggling industry in need of a lifeline. Two, the quality of writers Brown will be able to attract (which is already top-notch, particularly for a web-only publication) is bound to increase when the possibility of a book deal is dangled before them. Three, Brown is taking impressive steps toward cornering the still new-ish ebook market with her brand and her hand-picked writers. Plus, it's a rather unique way to test the waters of the paid-content without actually charging for access to the Daily Beast itself.
This is not Brown's first foray into the publishing world, of course. She launched Talk/Miramax books back in 2001 when she was editor of Talk, and earlier this year introduced the Book Beast page to The Daily Beast.
Have a tip we should know? tips@mediaite.com