Top Dem on Judiciary Committee Says 'Disrespectful Treatment of Merrick Garland' Won't be Forgotten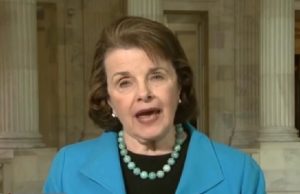 Following the announcement of the new Democratic leadership in the Senate, with Sen. Chuck Schumer (D-NY) taking over for the retiring Harry Reid as Senate Minority Leader, the new ranking member of the Senate Judiciary Committee released a statement.
Sen. Dianne Feinstein (D-CA) noted it was an honor to be chosen as the first woman ever to become ranking member of the committee, mentioning that she was also the first woman to serve on the committee after she was elected to the Senate in 1992.
She then issued a warning shot to President-elect Donald Trump and Republicans regarding their choices for Attorney General and the Supreme Court. Feinstein invoked Merrick Garland, President Barack Obama's Supreme Court pick in the wake of Antonin Scalia's death who was not given a confirmation hearing.
"This committee, which touches the lives of so many Americans, will face many tough issues in the coming years, and I'll do my level best to represent all Americans. One of our first orders of business will be the consideration of a new attorney general and a new Supreme Court justice. After the unprecedented and disrespectful treatment of Merrick Garland—a moderate judge who should have been quickly confirmed—the committee will pay very close attention to proposed nominees to ensure the fundamental constitutional rights of Americans are protected.

"When President-elect Trump is willing to support responsible policies and nominees, I'll hear him out, but this committee has a vital role to protect the Constitution and scrutinize policies, senior officials and judges very carefully, and that's what we intend to do. We simply won't stand aside and watch the tremendous successes achieved over the past eight years be swept away or allow our nation's most vulnerable populations to be targeted.
She finished the statement by saying that she looked forward to working with Chairman Chuck Grassley to find bipartisan solutions to issues such as immigration reform and sex trafficking.
[image via screengrab]
–
Follow Justin Baragona on Twitter: @justinbaragona
Have a tip we should know? tips@mediaite.com