Top Senate Democrats Come Out Against Pompeo Sec. of State Nomination After Big North Korea News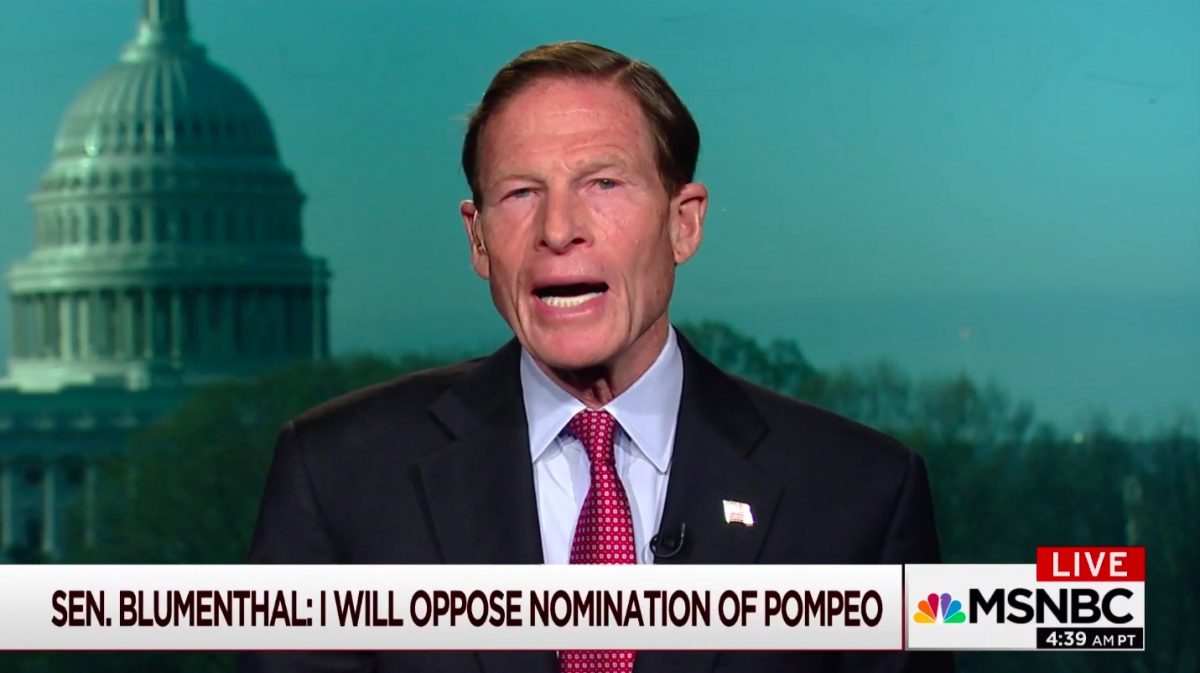 Top Senate Democrats are coming out in droves against President Donald Trump's nomination of CIA Director Mike Pompeo to become the next secretary of state.
The increasing opposition arrives after a secretive meeting Pompeo held with North Korean leader Kim Jong-Un on Easter weekend, ahead of Trump's planned sit-down with the head of the oppressive regime. Sen. Robert Menendez (D—NJ), the ranking member on the committee tasked with voting on Pompeo's nomination, as well as Sen. Richard Blumenthal (D—CT) and Sen. Ben Cardin (D—MD) are the latest Democrats to announce plans to vote "no" on Wednesday morning.
"I believe our nation's top diplomat must be forthright," Menendez said during a speech to a Washington think tank. "More critically his past sentiments did not reflect our nation's values and are not acceptable for our nation's top diplomat."
Blumenthal described Pompeo as having shown a "disdain for diplomacy" in an interview with MSNBC on Wednesday morning, revealing he would not support the nominee."
"He has devalued religious tolerance and women's reproductive rights, healthcare, not only in this country but around the world," he said. "I think he sets a poor example in terms of American values, so I will strongly oppose his nomination."
These senators join a pool of other Democrats on the Foreign Relations Committee who have already vowed to oppose the acting CIA director to head the State Department. Sen. Jeanne Shaheen (D-N.H.) released a statement earlier this week announcing she would not support Trump's nominee, adding she has "deep concerns regarding Mr. Pompeo's past statements and policy views, particularly in regards to the LGBTQ community, American Muslims and women's reproductive rights." Sen. Tim Kaine (D—VA) has also previously said he would oppose the nomination.
Democrats aren't the only lawmakers on the committee who have announced their opposition to Pompeo. Sen. Rand Paul (R—KY) vowed to filibuster Trump's nomination of the CIA director, as well as CIA Deputy Director Gina Haspel's appointment to succeed him at the federal agency, citing Pompeo's advocacy for "regime change."
[image via screengrab]
—
Follow Chris Riotta (@ChrisRiotta) on Twitter
Have a tip we should know? tips@mediaite.com