Townhall Columnist Invokes Auschwitz Over John Kerry Speech; Auschwitz Responds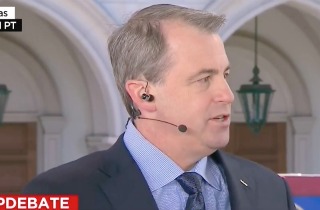 The Auschwitz Museum was not impressed with Kurt Schlichter after the Townhall columnist brought up the former Nazi death camp in order to criticize President Obama's position on Israel.
The Obama Administration has been defending itself recently for its decision not to veto a United Nations resolution that will require Israel to stop building settlements in contested territories. Secretary of State John Kerry gave a speech on the topic yesterday, and while he defended the two-state solution as the best chance for peace, Kerry seemed to admit that America cooperated with the Security Council on the resolution.
Aside from a sharp response from Prime Minister Benjamin Netanyahu, Kerry's speech was subject to a deluge of criticism from conservative corners. Schlichter got in on this as well, putting up a tweet that lived up to his Twitter bio of "angering leftists by being too pro-Israel for their taste."
If you are Jewish and supporting Barack Obama and John Kerry, well, you would have made a fine helper at Auschwitz.

— Kurt Schlichter (@KurtSchlichter) December 28, 2016
Schlichter's tweet received a great deal of blowback, and it eventually got the attention of the memorial museum itself:
The tragedy of prisoners of Auschwitz & their complicated moral dilemmas which today we can hardly comprehend should not be instrumentalized https://t.co/lGYSxQ4a54

— Auschwitz Memorial (@AuschwitzMuseum) December 28, 2016
Schlichter stood by his original comments as he continued to debate various Twitter users over his statement:
Your opinion is important and deserves respectful attention.
However, I disagree, respectfully, with your conclusion here.@AuschwitzMuseum

— Kurt Schlichter (@KurtSchlichter) December 28, 2016
Why do you support a policy barring Jews from their holy places? @dannywallace

— Kurt Schlichter (@KurtSchlichter) December 29, 2016
Not what was said, but OK. How do you feel about siding with the people who refuse to recognize Israel's right to exist. @DemWithHer

— Kurt Schlichter (@KurtSchlichter) December 29, 2016
Maybe you can write a song about me and debut it at the Common Grounds coffee shop open mic Tuesday. @Green_Footballs

— Kurt Schlichter (@KurtSchlichter) December 29, 2016
[Image via screengrab]
— —
>> Follow Ken Meyer (@KenMeyer91) on Twitter
Have a tip we should know? tips@mediaite.com