Treasury Department Deletes Retweet of Trump Political Victory Boast After Immediate Criticism
The U.S. Treasury Department came under fire Wednesday morning for retweeting a post from President Donald Trump boasting about a political victory.
The retweet — which has been deleted, but can be seen below via screenggrab — featured the president bragging about special election results and declaring a "red wave" for the upcoming midterms.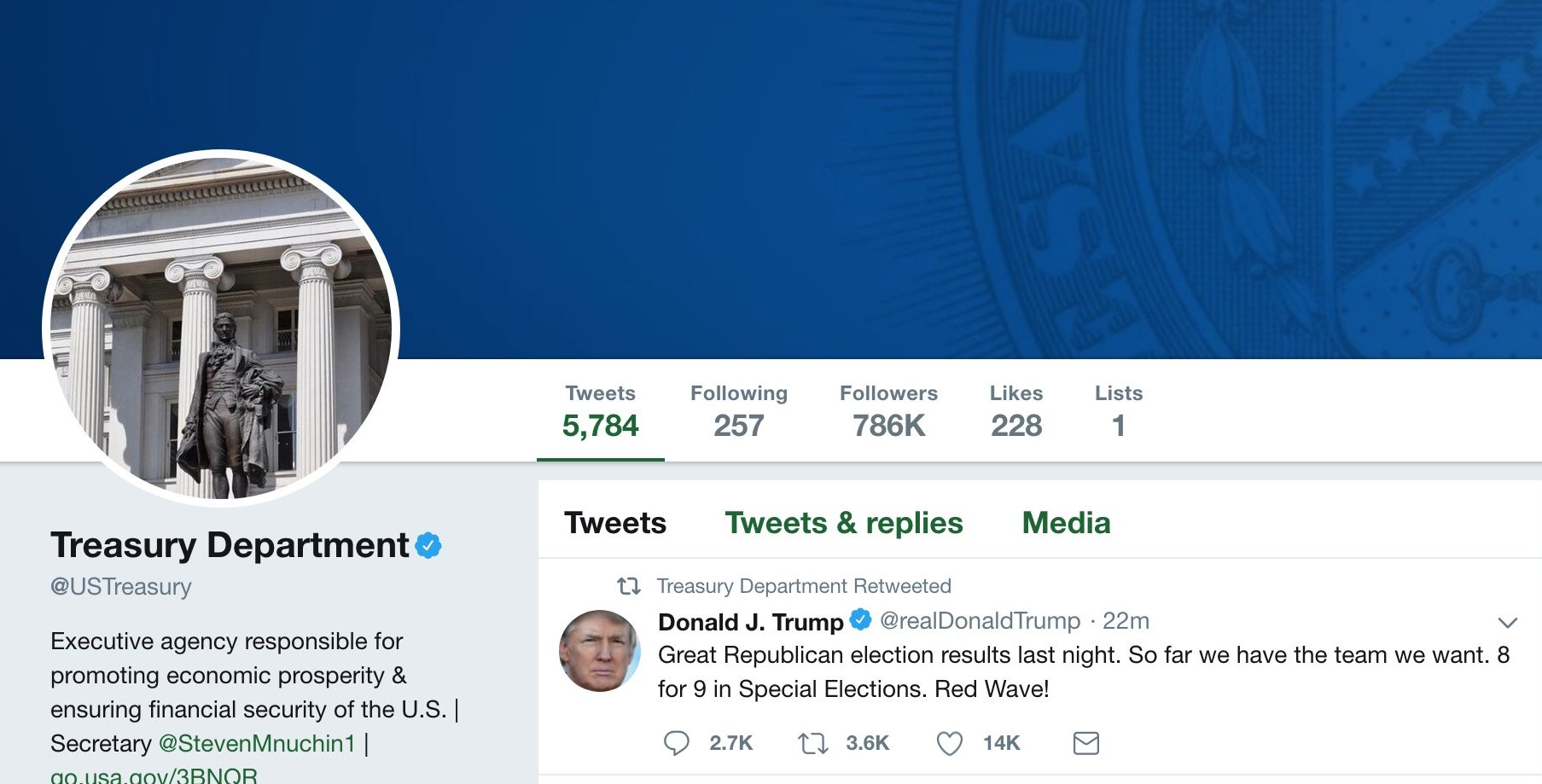 Twitter immediately pounced — questioning whether the retweet constituted a violation of the Hatch Act, which mandates that Federal agencies must remain non-partisan.
O hai, Hatch Act pic.twitter.com/nrAQSAwBEb

— Benjy Sarlin (@BenjySarlin) August 15, 2018
hatch act, u up? pic.twitter.com/j6ITYeSdCq

— Bobby Lewis (@revrrlewis) August 15, 2018
HATCH ACT VIOLATION

— Jeffrey Evan Gold (@jeffgoldesq) August 15, 2018
Dear @USTreasury who retweeted this. Remember the Hatch Act?

— Christina Ginn (@NBChristinaGinn) August 15, 2018
Really, @USTreasury? pic.twitter.com/7nUTrU0MmW

— Kenn White (@kennwhite) August 15, 2018
Since when do federal agencies publicly weigh in on partisan primary election results⁩, @ustreasury? #HatchAct pic.twitter.com/OTxa4Ety4V

— Joe Valenti (@moneyjoev) August 15, 2018
I wonder if this violates any election laws — it appears to be a partisan endorsement by a branch of government https://t.co/Carp2ZBO1f

— Barry Ritholtz (@ritholtz) August 15, 2018
Hatch Act

— Dow (@mark_dow) August 15, 2018
[featured image via screengrab]
Have a tip we should know? [email protected]
Joe DePaolo - Senior Editor