Trump Admin Reportedly Considering an Executive Order to Withdraw the U.S. from NAFTA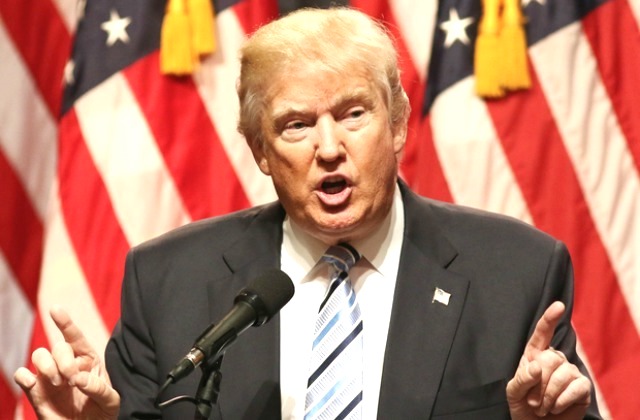 There are multiple reports out today saying the Trump administration is considering an executive order to withdraw the United States from the North American Free Trade Agreement (NAFTA).
Just days ago, in that much-talked-about interview President Trump did with the AP, he had the following exchange on the subject:
AP: What about NAFTA? What's the plan on NAFTA?

TRUMP: What would you like to know?

AP: I would like to know what your plan is in terms of renegotiating.

TRUMP: I am very upset with NAFTA. I think NAFTA has been a catastrophic trade deal for the United States, trading agreement for the United States. It hurts us with Canada, and it hurts us with Mexico. Most people don't even think of NAFTA in terms of Canada. You saw what happened yesterday in my statements, because if you look at the dairy farmers in Wisconsin and upstate New York, they are getting killed by NAFTA.

AP: Is your plan still, though, to renegotiate the whole deal?

TRUMP: I am going to either renegotiate it or I am going to terminate it.

AP: Termination is still on the table.

TRUMP: Absolutely. If they don't treat fairly, I am terminating NAFTA.

AP: What's a timeline for that decision?

TRUMP: It's a six-month termination clause, I have the right to do it, it's a six-month clause.
And last June, during the campaign, he delivered a major speech on jobs where he railed against NAFTA as "the worst trade deal in… the history of this country." And he made the following pledge:
"I'm going to tell our NAFTA partners that I intend to immediately renegotiate the terms of that agreement to get a better deal––by a lot, not just a little, by a lot––for our workers. And if they don't agree to a renegotiation, which they might not, because they're so used to having their own way––not with Trump, they won't have their own way––then I will submit under Article 2205 of the NAFTA agreement that America intends to withdraw from the deal."
Two senior administration officials told CNN today that the White House is considering an executive order to withdraw:
The White House is currently mulling an executive order declaring the US' intent to withdraw from NAFTA, a move that could trigger a renegotiation of the trade pact rather than outright withdrawal, the officials said.
Politico's report says that the executive order draft was written up by Peter Navarro, who heads the president's National Trade Council, "in close cooperation with White House chief strategist Steve Bannon."
Senator John McCain has already weighed in, and his reaction isn't particularly positive:
MCCAIN warns Trump on NAFTA, urges him not to pull out of the agreement. "It will devastate the economy in my state," he told me

— Manu Raju (@mkraju) April 26, 2017
[image via JStone / Shutterstock.com]
— —
Follow Josh Feldman on Twitter: @feldmaniac
Have a tip we should know? [email protected]
Josh Feldman - Senior Editor