Trump Doesn't Mind That GOP Platform Is More Socially Conservative Than Him
"Do I agree with everything? Nobody ever has."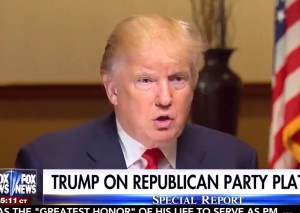 In an interview with Fox's Bret Baier that aired Wednesday evening, presumptive GOP nominee Donald Trump dismissed the fact that the GOP platform had taken a hard lurch to the right on social issues.
"Right now, the platform is largely a Trump platform!" he said. Indeed, the platform has adopted language on immigration that resembles the underpinnings of Trump's campaign, specifically explicating the desire to build a wall that covers "the entirety of the Southern Border and must be sufficient to stop both vehicular and pedestrian traffic."
At the same time, social conservatives have pushed the GOP platform to adopt ironclad stances opposed to LGBT rights — affirming the party's intention to countermand the Obergefell decision that legalized same-sex marriage nationally and considering enshrining parents' rights to use discredited and dangerous "conversion therapies" on their children — and to continue its opposition to abortion rights for women.
Trump has occasionally drifted from socially conservative views by demonstrating more open mindedness on marriage equality for gays and lesbians and on transgender access to bathrooms, and he has even spoken out in support of a woman's right to an abortion. (He's waffled erratically on that latter point, notably when he said in March that women should receive "some form of punishment" for getting abortions.)
"You can see that the platform is perhaps more socially conservative than you've campaigned on," Baier said.
Trump responded, "Well, if you look at trade and if you look at the Wall and you look at the borders and you look at all the things, I mean, a few people have said it looks like a Donald Trump speech."
Pressed by Baier on GOP opposition to legal abortion and to women in the military serving in combat roles, Trump said, "Well, look, you know, no platform is ever the same way…" and said there seemed to be "very few [women] that qualify from a certain standpoint."
When Baier mentioned the platform's opposition to medical marijuana, Trump responded, "They opposed that?"
Asked about married gay couples adopting children and transgender rights, Trump said, "Just so you understand — no platform — I am a representative of the party. Many of the things on that platform has been amazing! In fact some of them I was really surprised that we won, including very strong borders, et cetera et cetera. I mean, we won. I think what's happening with the platform is very good. Do I agree with everything? Nobody ever has."
[image via screengrab]
This post has been updated for clarification
Have a tip we should know? tips@mediaite.com