Trump Draws Outrage After Attacking Christine Ford's Allegation Against Kavanaugh: 'Full Slut Shaming'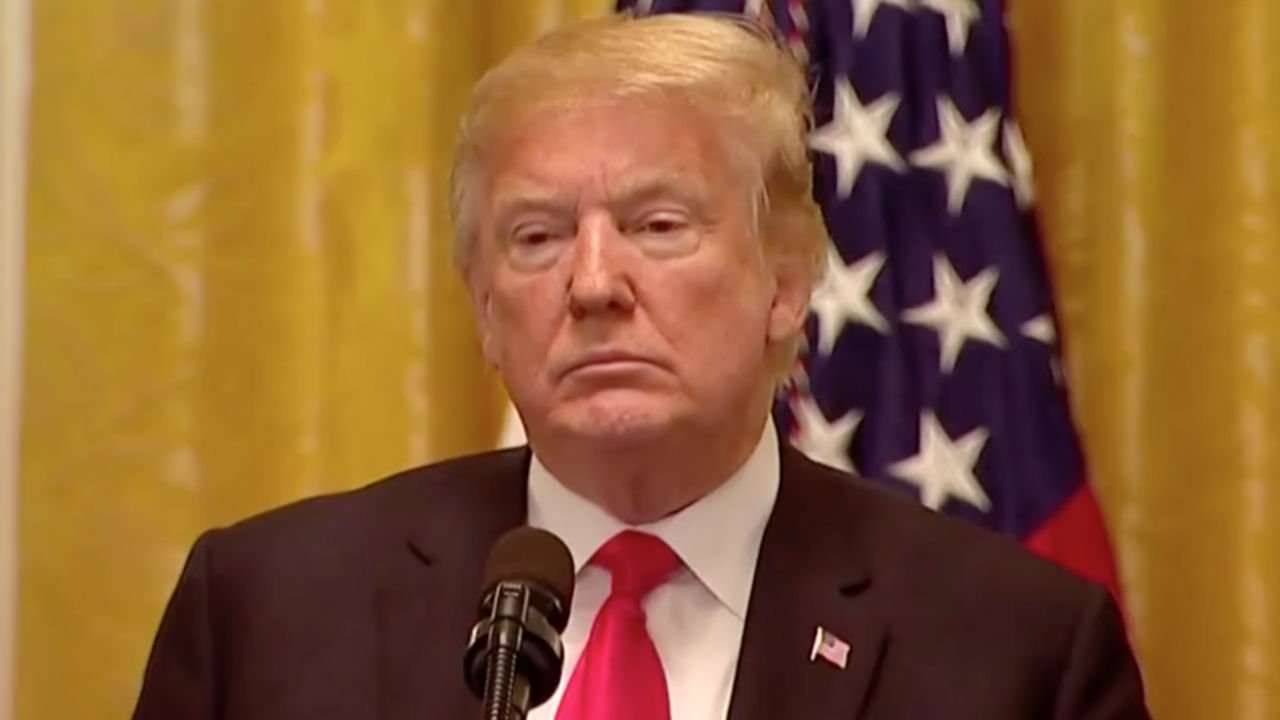 President Trump attacked Christine Ford and the other political factors getting in the way of Brett Kavanaugh's ascension to the Supreme Court on Friday, setting off a firestorm of controversy unwanted by Republican supporters of the judge.
In his latest tweets, Trump went after the "radical left wing politicians" calling for a delay on Kavanaugh's confirmation so that Ford has a chance to testify about the sexual assault the aspiring justice allegedly committed against her. Trump also questioned Ford's account because she didn't file a police report after the incident, saying "why didn't someone call the FBI 36 years ago?"
"I have no doubt that, if the attack on Dr. Ford was as bad as she says, charges would have been immediately filed with local Law Enforcement Authorities by either her or her loving parents," Trump wrote.
Trump's suggestion that Ford's allegations aren't credible because she did not report them to the police naturally drew outrage, plenty of fact-checking, and Twitter users pointing out that the last thing Republicans need is the president attacking a possible victim of sexual assault.
So much for the "restraint" his aides were touting this week in Trump's comments on Dr. Ford. He's back to tweeting things like "facts don't matter" and now blaming the accuser. https://t.co/9jM5uZ8oe2

— Jim Acosta (@Acosta) September 21, 2018
This exchange ? occurred exactly one minute before Trump's tweet:

REPORTER: Have you advised the president to avoid attacking Dr. Ford?
KELLYANNE: The president doesn't need anybody to tell him. He does the right thing. https://t.co/swvhwT8rSM

— Peter Alexander (@PeterAlexander) September 21, 2018
Trump cedes a key talking point to Kavanaugh critics: that the allegations are within the FBI's investigative purview in the first place https://t.co/EGdSsVRDvb

— Lachlan Markay (@lachlan) September 21, 2018
This is stupid and obscenely wrong for reasons I shouldn't have to spell out. I beg my conservative colleagues and followers not to echo this dumb sentiment. https://t.co/NtehrrjvaF

— Tim Carney (@TPCarney) September 21, 2018
Not. Helping. https://t.co/GcE6gXCqG7

— Ben Shapiro (@benshapiro) September 21, 2018
Were you surprised at the ending when the awful people revealed themselves to be awful people?

— Andrew Kirell (@AndrewKirell) September 21, 2018
The right has noted for a week, correctly, that the FBI has jurisdictional restrictions on investigating an alleged incident in a private home. How did he miss that? Why is he taking a hacksaw to the right's case? https://t.co/8Ef1euAlsx

— Noah Rothman (@NoahCRothman) September 21, 2018
The gloves are off. He's going full slut shaming.

And he's too stupid to realize that the FBI would have said "call the police department" if they had called 36 years ago. https://t.co/iPvphjb7Hd

— Bradley P. Moss (@BradMossEsq) September 21, 2018
1. The alleged incident wasn't a federal crime…it would have been a matter for the police.

2. Juanita Broderick didn't call law enforcement…neither did any of Al Franken's accusers….does that make their accusations any less valid? https://t.co/Oppm0bAR1A

— Yashar Ali ? (@yashar) September 21, 2018
I can't imagine how much pain it must cause the millions of victims of sexual assault to see this president continue to attack accusers and spread debunked myths about rape.

— John Iadarola (@johniadarola) September 21, 2018
This tweet is too stupid to fact-check, but the 1982 FBI did not handle assault allegations against local 17-year-olds. pic.twitter.com/jwBIS0oLpC

— Daniel Dale (@ddale8) September 21, 2018
And there it is. He could not hold back. https://t.co/8wrXdVr8jV

— Greg Sargent (@ThePlumLineGS) September 21, 2018
I feel like today is gong to end with the president declassifying the entire counterintelligence division of the FBI. https://t.co/eQ6BD0C18i

— Kyle Cheney (@kyledcheney) September 21, 2018
Bill O'Reilly
Roy Moore
Rob Porter
Brett Kavanaugh

Trump defended them all against accusations of sexual harassment/assault allegations — plus himself — by smearing/discrediting/questioning the women.

This is America

— J.D. Durkin (@jiveDurkey) September 21, 2018
So, yeah.

Beyond the arguments of the Kavanaugh/Ford case, the President of the United States just trolled every woman in America who was a victim of sexual assault and was afraid to report it.

The ads write themselves.

— Rick Wilson (@TheRickWilson) September 21, 2018
What are the odds Trump was holding his fire because he, too, had been talked into the idea that Ed Whelan had a blockbuster finding that was going to fix all of this? https://t.co/MTfpvhLoXl

— Josh Barro (@jbarro) September 21, 2018
[Image via screengrab]
— —
>> Follow Ken Meyer (@KenMeyer91) on Twitter
Have a tip we should know? tips@mediaite.com