Trump Flip-Flops on Immigration, Then Asks Hannity's Advice: 'I Mean I Don't Know, You Tell Me'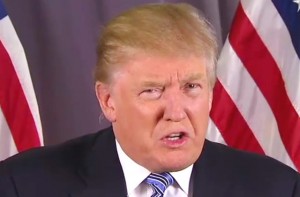 Reports that Donald Trump was "softening" his stance on immigration came to pass Wednesday night, when he admitted that he would be willing to "work with"  the people who were "upstanding" and "great."
It's an about-face from his ironclad stance during the primary, when Trump was adamant that he would and could remove every single illegal immigrant in the country.
Trump did maintain that he would build the wall — about 1,000 miles worth of wall, anyway. "It will get done so quickly your head will spin it will done quickly," he said. "And it will be a real wall.  It will be a real wall.  It won't be one of these little toys that you see every once in a while, our government throws up a little wall like this."
Speaking to Sean Hannity during the Fox anchor's second consecutive Trump town hall, which airs at 10 p.m. Wednesday, Trump wondered aloud if "someone who is terrific" who had been in the country for 20 years illegally could be given a reprieve. "Can we go through a process or do you think they have to get out?" he asked Hannity. "Tell me?  I mean, I don't know, you tell me."
The GOP presidential candidate said that people in the country illegally could be divided into two groups.
The first group were "the bad ones, the gang bangers," of which he said:
I mean we will get them out so fast.  You know the police know who they are.  This is no like great secret like I wonder who they are.  These police know and the people know who they are. They know who they are and they're going to be gone like so fast your head will spin.  OK.  So that's easy, right?
The second could be described as a "person 20 years been an upstanding person, the family is great, everyone is great." He then took an informal voice vote of the crowd asking them to respond to one of two options:
TRUMP:  Ready?
(CROSSTALK)
TRUMP:  Number one, we'll say throw out.  Number two, we work with them, ready?  Number one.
(CROWD NOISE)
TRUMP:  Number two.
(APPLAUSE)
Trump said his proposal to allow some "good people" to stay after "we work with them" was not "amnesty." He also said that there would be "no citizenship," but they would have to pay back taxes.
But we work with them.  Now, OK, but when I look at the rooms and I have this all over, now everybody agrees we get the bad ones out.  But when I go through and I meet thousands and thousands of people on this subject, and I've had very strong people come up to me, really great, great people come up to me. And they've said, Mr. Trump, I love you, but to take a person that has been here for 15 or 20 years and throw them and the family out, it's so tough, Mr. Trump.  I mean, I have it all the time. It's a very, very hard thing.
And he conducted another voice poll. "Look, this is like a poll, there's thousands of people in this room," he said. "Who wants those people thrown out?"
"I do!" someone shouted.
—
Sam Reisman (@thericeman) is a staff editor at Mediaite.
Have a tip we should know? tips@mediaite.com