Trump Jr. to Judiciary Committee: I Met With Russian Lawyer to Determine Clinton's 'Fitness'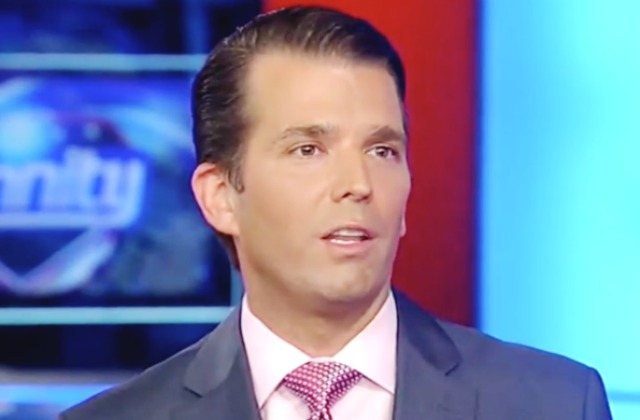 Donald Trump Jr. had a closed-door interview with Senate investigators on Thursday, where he talked about his meeting last year with a Russian lawyer who was supposedly going to provide damaging information he could use against Hillary Clinton.
New York Times obtained the statement Trump Jr. gave to the Senate Judiciary Committee, where the president's son said he wanted to meet with Natalia Veselnitskaya in the event that she could provide information about Clinton's "fitness" for office. Trump Jr. insisted that he would've sought legal advice if the meeting yielded any serious dirt, and that he not collude with Russian government efforts to help his father become president.
"To the extent they had information concerning the fitness, character or qualifications of a presidential candidate, I believed that I should at least hear them out…Depending on what, if any, information they had, I could then consult with counsel to make an informed decision as to whether to give it further consideration."
Trump Jr. has been under major political scrutiny in recent months since he initially claimed his meeting with Russian officials only pertained to adoption policy. It was subsequently discovered that the Trump scion was promised information that could cripple his father's opponent, that multiple Russian officials were involved, and that the president told his son to speak about the meeting without addressing the actual premise.
Trump Jr. also told the committee that the campaign was too politically inexperienced to form an alliance with a foreign government. Jared Kushner was also involved with Trump Jr.'s meeting last year, and he recently offered a similar statement about how the campaign was too disorganized to strategize with Russia.
Trump Jr. was also asked to explain his contact with Rob Goldstone, the music producer to whom Trump Jr. said he "loved it" after Goldstone told him about what Veselnitskaya had to offer.
"Since I had no additional information to validate what Rob was saying, I did not quite know what to make of his email. I had no way to gauge the reliability, credibility or accuracy of any of the things he was saying…As it later turned out, my skepticism was justified. The meeting provided no meaningful information and turned out not to be about what had been represented…As much as some have made of my using the phrase 'I love it,' it was simply a colloquial way of saying that I appreciated Rob's gesture."
[Image via screengrab]
— —
>> Follow Ken Meyer (@KenMeyer91) on Twitter
Have a tip we should know? tips@mediaite.com