Trump Just Blasted the VP Candidate Bill O'Reilly Claimed Was the 'Only Choice' For Him to Win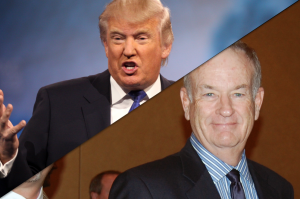 When the first round of Trump VP conversations were being had in the media about four weeks ago, many of the same names were popping up in conversation. Would it be Robert Gates? Nikki Haley? Maybe his pal Chris Christie, the "biggest brawler in American politics"?
But it was Fox News stalwart and Trump's vanilla milkshake partner in crime Bill O'Reilly who understood — in his perspective — that the "only choice" was New Mexico Governor Susana Martinez.
"There is only one choice if he wants to win the White House, only one person," O'Reilly said at the time. "[Martinez] cuts across all the ethnic boundaries. She's very bright. She is a Republican conservative."
Well, looks like the next round of milkshakes is on you, Bill.
Trump apparently wanted nothing to do with the New Mexico Governor that his pal once tried to prop up as a VP candidate. While campaigning in the Land of Enchantment late Tuesday night, the presumptive nominee of the Republican party told a gathered Albuquerque crowd, "We have got to get your governor to get going."
Martinez — who has harshly rebuked the real estate titan for his stance on immigration — opted not to appear at the event alongside Trump, reportedly telling local media that she was, "really focused on what's going on here in New Mexico."
Enter an unhappy Trump, who blasted Martinez (the country's first Latina governor, and the first female governor of New Mexico) in front of her hometown crowd at an event that featured clashes of violent protests. He continued:
"She's got to do a better job. Okay? Your governor has got to do a better job. She's not doing the job. Hey! Maybe I'll run for governor of New Mexico. I'll get this place going. She's not doing the job. We've got to get her moving. Come on: Let's go, governor."
In a statement from Martinez's press secretary Mike Lonergan, her camp responded to Trump by saying:
"…the pot shots weren't about policy, they were about politics. And the Governor will not be bullied into supporting a candidate until she is convinced that candidate will fight for New Mexicans. Governor Martinez doesn't care about what Donald Trump says about her — she cares about what he says he will do to help New Mexicans. She didn't hear anything about that today."
So what does this mean now? Does Bill O'Reilly think his pal Trump now stands no chance at the White House since he, presumably, burned his only bridge? Will Martinez ever endorse Trump after the latest round of attacks? Also, who paid for those milkshakes? Follow this space for the latest.
[h/t WaPo]
Have a tip we should know? tips@mediaite.com