Trump Ordered National Park Service to Find Photos Proving He Had Huge Inauguration Crowd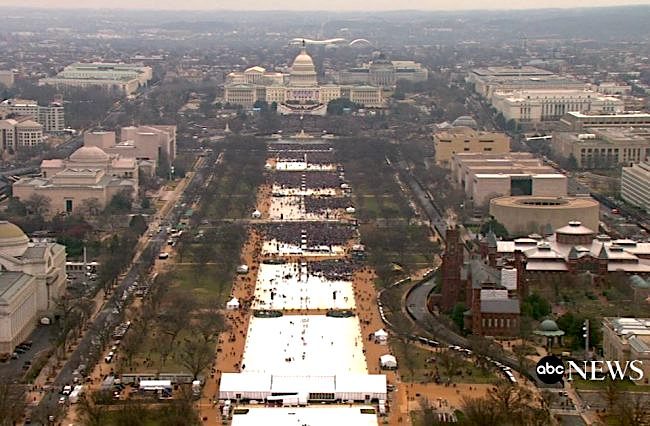 In the days following his inauguration, President Donald Trump has vehemently hit back at the notion that the crowd at his inauguration ceremony was sub-par and sparse. He used his visit to the CIA and interview with ABC's David Muir to brag about his huge crowd, while sending out White House Press Secretary Sean Spicer to contend that the inauguration was the most watched ever.
And, according to the Washington Post, he also reportedly ordered the acting director of the National Park Service to find more photos of the crowd that would prove it was huge.
In a Saturday phone call, Trump personally ordered Reynolds to produce additional photographs of the previous day's crowds on the Mall, according to three individuals who have knowledge of the conversation. The president believed that the photos might prove that the media had lied in reporting that attendance had been no better than average.

Trump also expressed anger over a retweet sent from the agency's account, in which side-by-side photographs showed far fewer people at his swearing-in than had shown up to see Barack Obama's inauguration in 2009.
The National Park Service was briefly banned from sending out communications or using Twitter in wake of the retweet showing the difference in crowd sizes at the inaugurations.
The NPS would not comment to the Post on the story but deputy press sec Sarah Huckabee Sanders stated that the call showed that Trump was "so accessible" and that he "takes action and get things done."
The additional photos that that the director was able to provide to Trump did not prove Trump's claim at his CIA visit that he attracted a crowd of 1 to 1.5 million.
[image via screengrab]
–
Follow Justin Baragona on Twitter: @justinbaragona
Have a tip we should know? tips@mediaite.com