Trump Reportedly Pooh-Poohs Climate Science: 'They Cant Even Get the Weather Report Right'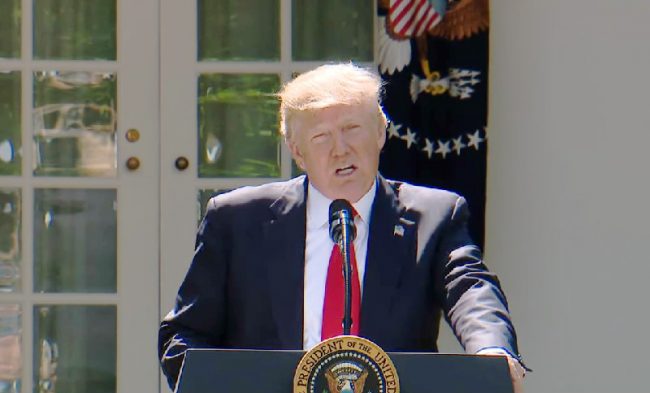 After President Donald Trump's announcement to withdraw the U.S. from the Paris climate accord, numerous While House officials completely dodged questions about the President's position on climate change. But a new report out Monday may help shed some light on the matter.
According to Politico, Trump outlined his thoughts on climate science over post-golf lunch with some pals on Sunday at Trump National Golf Club in Virginia. Per the report, the President's current thinking on the subject goes something like this:
[T]hey can't even get the weather report right, so how come they think they can get that right?
The new reporting seems to jive with Trump's previous Tweets on the subject.
This very expensive GLOBAL WARMING bullshit has got to stop. Our planet is freezing, record low temps,and our GW scientists are stuck in ice

— Donald J. Trump (@realDonaldTrump) January 2, 2014
The concept of global warming was created by and for the Chinese in order to make U.S. manufacturing non-competitive.

— Donald J. Trump (@realDonaldTrump) November 6, 2012
They call it "climate change" now because the words "global warming" didn't work anymore. Same people fighting hard to keep it all going!

— Donald J. Trump (@realDonaldTrump) December 15, 2013
NBC News just called it the great freeze – coldest weather in years. Is our country still spending money on the GLOBAL WARMING HOAX?

— Donald J. Trump (@realDonaldTrump) January 25, 2014
On Friday, White House Press Secretary Sean Spicer was asked if the President believes climate change is occurring. Remarkably, Spicer said that he hadn't asked him. On Monday, Deputy Press Secretary Sarah Huckabee Sanders takes the podium. We'll be watching to see if she can finally provide some answers to the questions, or if she becomes the latest West Wing official to dodge them.
[image via screengrab]
——
Follow Joe DePaolo (@joe_depaolo) on Twitter
Have a tip we should know? tips@mediaite.com
Joe DePaolo - Senior Editor