Trump Responds to Bastille Day Attack: 'We're Trying to Be So Politically Correct'
'We're living in a whole different world.'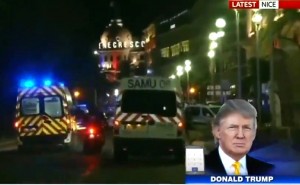 Donald Trump reiterated many of his stances on immigration and national security, when he called into Fox News Thursday evening to discuss the Bastille Day attack in Nice, France that left at least 73 dead and over 100 injured.
He spoke of his proposed ban on Muslims, excoriated the country's weakness as a result of "political correctness," and argued that the world had changed and there was no room to be "civil" anymore.
"We're living in a whole different world. There's no respect for law and order. There's no respect for anything or anybody. And this has to be dealt with very harshly,"  he said.
He noted that Clinton wanted to bring in more Syrian refugees "and we have no idea who they are," he said. "I would not allow people to come in from terrorist nations," echoing remarks he made last month. "We're gonna allow thousands and tens of thousands of more people coming in and then you see a situation like in Nice, France, and it's a horrible thing," he added.
When Greta van Susteren asked him about attackers who his proposed bans on Muslim immigrants and Syrian refugees would not have kept out — such as the America-born murderer in Orlando — Trump responded, "Second generation turns out to be very bad for whatever reason."
"We're trying to be so nice. We're trying to be so civil," he said. "And the world has got to strengthen up."
Regarding early reports that Trump had selected Indiana Gov. Mike Pence to be his running mate, Trump said, "I haven't made a final final decision." He claimed that there were more people than Pence in the running, people who the media did not even know about.
Trump had been scheduled to reveal his running mate Friday morning, but postponed the announcement because of the attack.
Have a tip we should know? tips@mediaite.com