Trump Slammed on Twitter for Proposed Military Parade: 'Repulsive Tinpot Strongman Bullsh*t'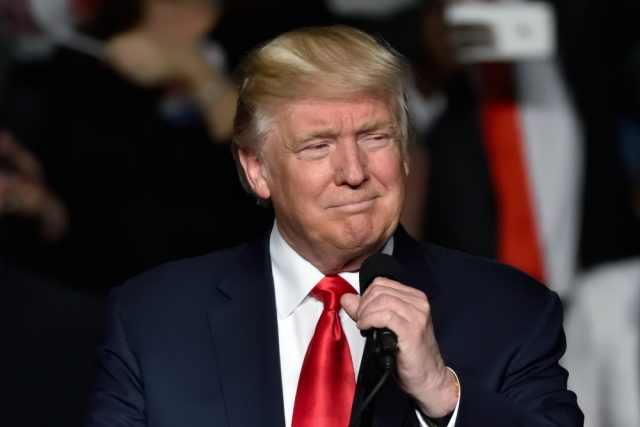 After a Washington Post report detailed Donald Trump's plan to make White House and Pentagon officials carry out a massive military parade in Washington, D.C., pundits and journalists took to Twitter to mock the idea as ridiculous or slam it as authoritarian.
"The president wants to do something that highlights the service and sacrifice of the military and have a unifying moment for the country," a White House official said regarding the plan
While Trump has proposed such ideas in the past — specifically while he met with French President Emmanuel Macron — this appears to be the first time the Pentagon actually looks to carry out the event.
Nothing official has been set in motion yet, but many media figures expressed concern and anger over even the notion of such a move from the White House:
Trump will spend more money on his war parade than on our national opioid crisis. He does not care about anyone but himself. https://t.co/5xLE65Ij2c

— Molly Knight (@molly_knight) February 6, 2018
Trump has ordered a large military parade similar to how the Soviet Union used to do it. What's his obsession with the Soviets? Does he know that this went out of style decades ago and the Soviet Union collapsed?

— Ed Krassenstein (@EdKrassen) February 6, 2018
Trump should throw an Afghan War parade and have the troops march in place forever

— Simon Maloy (@SimonMaloy) February 6, 2018
Might as well go big @realDonaldTrump pic.twitter.com/qWctT9Gsda

— Tommy Vietor (@TVietor08) February 6, 2018
Party of fiscal discipline: 1.6 trillion dollar tax cut, big spending increase, pay for military parades

— Fork Theory Adherent (@notwokieleaks) February 6, 2018
Just put Trump in a tank and let him drive around and crush the rose garden for a while, he's president, he's earned it

— Asawin Suebsaeng (@swin24) February 6, 2018
I'm joking, but this is some repulsive tinpot strongman bullshit. As usual, Trump's conception of what's glitzy and impressive actually screams tacky and low-class.

— Julian Sanchez (@normative) February 6, 2018
Congress could very easily make a dumb Trump soviet-style bomb parade impossible but that's not the world.

— Jon Lovett (@jonlovett) February 6, 2018
Trump also wanted tanks in his inaugural procession – which a spox vehemently denied, only to have @jessicaschulb #FOIA the Pentagon emails that proved it.https://t.co/5GsOKd1p9m pic.twitter.com/Fi6qIf9e7R

— Jesse Lehrich (@JesseLehrich) February 6, 2018
Trump: I want a big military parade. With a Garfield balloon, like in the Macy's parade. And a balloon of me, bigger than the Garfield balloon, to show my dominance over Garfield

— TWlTTER DOT COM SLASH PIXELATED BOAT (@pixelatedboat) February 6, 2018
Trump wants a Soviet-style military parade, something weak leaders do to try to look strong. https://t.co/HmL7TVGDnV

— Garry Kasparov (@Kasparov63) February 6, 2018
We love the military, and there should absolutely NOT be a military parade in Washington DC.

— The Reagan Battalion (@ReaganBattalion) February 6, 2018
The American military is awesome. Mighty displays of military power marching through civilian streets in the United States are not. https://t.co/HH2JZbW7uq

— Ben Shapiro (@benshapiro) February 6, 2018
Can someone become a living and breathing caricature of a caricature? https://t.co/FjAZrZOupu

— Chuck Todd (@chucktodd) February 6, 2018
We're teetering on the brink of a constitutional crisis, another government shutdown, multiple foreign policy threats, and the President's big idea is to have a parade.

— Tom Nichols (@RadioFreeTom) February 6, 2018
We already know what it will look like pic.twitter.com/SHMnSrthyZ

— jordan (@JordanUhl) February 6, 2018
it's actually really funny that top pentagon officials are being ordered to throw a parade for a reality tv dipshit

— stock market expert (@lib_crusher) February 6, 2018
A parade that's just 100,000 holograms of Prince marching in lockstep through DC

— David "left of commie" Klion (@DavidKlion) February 6, 2018
[images via Evan El-Amin / Shutterstock.com]
Follow the author on Twitter (@calebecarma).
Have a tip we should know? [email protected]