Trump Supporter Takes Attacks Further, Says Judge is 'Rooted in Belief in Illegal Immigration'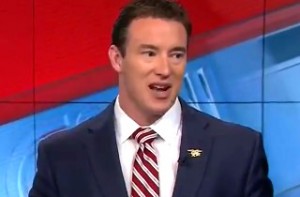 On CNN Wednesday morning, Trump supporter Carl Higbie took the attacks against Judge Gonzalo Curiel even farther, claiming repeatedly that his heritage and his perspective were rooted in a firm belief in — and support for — illegal immigration.
Donald Trump has persistently accused Judge Curiel of bias and being unqualified to hear the lawsuit against Trump University because of his Mexican heritage. (Curiel was born in Indiana.) The remarks drew condemnation from people across the political spectrum for what virtually everyone — including Republican party leaders — decried as overt racism.
Trump did not apologize, merely issued a statement saying his words had been "misconstrued."
Rather than backpedal or bolster Trump's "misconstrued" defense, Higbie went on the offensive and accused Curiel of being fundamentally unfit to preside over the case because of a host of disqualifying beliefs that were inextricably tied to the fact that he is of Mexican descent.
Higbie affirmed that Curiel's Mexican background did, in fact, disqualify him, citing Curiel's connection to California La Raza Lawyer's Association. "They help illegal immigrants here in America," he said. "They want illegal immigration. They want more people here that are undocumented. I mean, this is what this judge believes in."
PolitiFact notes that La Raza "has stayed on the sidelines in the immigration debate" and that the "group's rare court filings focus on civil rights in general." The one time PolitiFact notes that that the group entered the illegal immigration debate was when it wrote a letter in 2004, objecting to a reality TV show because it "encouraged people to enter this country without documentation."
Higbie went on to say that Curiel's "Mexican heritage is rooted in the fact that he supports illegal immigration."
"No, his Mexican heritage is rooted in the fact that his parents are Mexican," Kate Bolduan countered. "They're not rooted in 'beliefs.' It's a fact."
"But that's what we're talking about. This judge is rooted in the beliefs that — he believes in illegal immigration. He supported illegal immigration," Higbie said.
[image via screengrab]
Have a tip we should know? tips@mediaite.com