Trump Threatens to Cancel Meeting with Mexican Prez Over Refusal to Fund Border Wall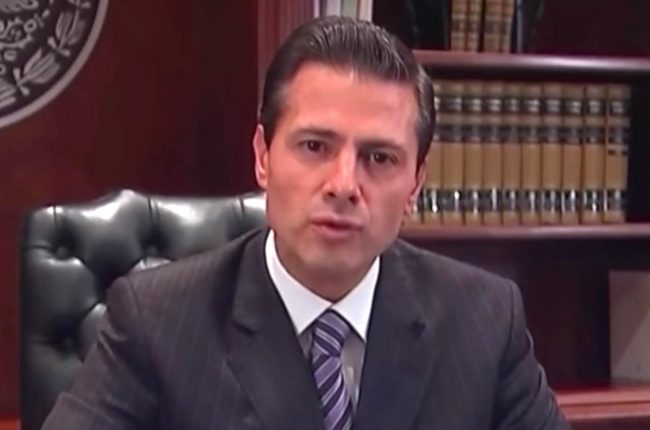 President Donald Trump is suggesting that if Mexican president Enrique Pena Nieto continues to say he won't pay for a wall on the border, they might as well not bother with the upcoming meeting the two neighboring leaders were supposed to have.
On Wednesday, Trump signed a series of executive orders to direct federal funding towards the construction of the wall he proposed throughout his 2016 campaign. The president also reaffirmed his promise that the Mexican government will cover the wall's cost, even though Pena Nieto has repeatedly promised that his government will never reimburse America as Trump demands.
Pena Nieto was scheduled to meet with the Trump Administration next week, though recent reports indicate that he is thinking about canceling the visit. Pena Nieto also gave a speech last night, where he demanded respect for Mexico and once again rejected any intention to pay for the wall.
"I regret and reject the decision of the United States to continue building a wall that, that for years, far from uniting us, divides us," Pena Nieto said. "Mexico does not believe in walls. I have said time and time again, Mexico will not pay for any wall."
It would seem that Trump noticed this, because he put out several tweets this morning indicating that if Mexico refuses to cough up, the meeting shouldn't happen.
The U.S. has a 60 billion dollar trade deficit with Mexico. It has been a one-sided deal from the beginning of NAFTA with massive numbers…

— Donald J. Trump (@realDonaldTrump) January 26, 2017
of jobs and companies lost. If Mexico is unwilling to pay for the badly needed wall, then it would be better to cancel the upcoming meeting.

— Donald J. Trump (@realDonaldTrump) January 26, 2017
During an interview yesterday, Trump shrugged off Pena Nieto's promise to never pay for the wall.
UPDATE: 11:57 a.m. EST: Pena Nieto has just announced that he will not meet with Trump after all:
Esta mañana hemos informado a la Casa Blanca que no asistiré a la reunión de trabajo programada para el próximo martes con el @POTUS.

— Enrique Peña Nieto (@EPN) January 26, 2017
[Image via screengrab]
— —
>> Follow Ken Meyer (@KenMeyer91) on Twitter
Have a tip we should know? tips@mediaite.com